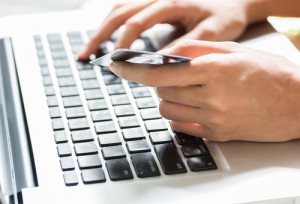 NYPD Officer Ymmacula Pierre, 30, allegedly used a dead man's credit card to purchase a diamond ring online after lifting it from the man's personal effects in July 2014.
According to the New York Post, the three-year veteran of the force and her partner went to the apartment of Kenneth Sanden after a concerned relative called because the 65-year-old hadn't shown up to work. When the two officers arrived at the scene, they found Sanden dead. That's when Pierre reportedly committed identity theft.
Pierre vouchered some of Sanden's possessions, including the credit card, officials said. Two days later, the number was used to make an unauthorized online purchase of a diamond ring from Zales.com for $3,282.58. Sanden's niece was notified of possible credit-card fraud and alerted the vendor before the ring was delivered.
The initial was the first indication of fraud, but it wasn't the primary piece of evidence for the eventual case against Pierre. That came from the officer's boyfriend's computer records.
The delivery address, and the IP address of the computer used to make the purchase, matched the address of Pierre's boyfriend, whom she had listed as a reference on her NYPD application.

Pierre had also allegedly used the computer at her boyfriend's place to access Sanden's email account.
Pierre was arraigned on Monday in a New York City court. She pleaded not guilty and was released without bail.
Moral of the story? Never buy jewelry for anyone. That, and don't steal from the dead. Duh.
[h/t New York Post]
[Image via Shutterstock.com]
— —
>> Follow Andrew Husband (@AndrewHusband) on Twitter
Have a tip we should know? tips@mediaite.com