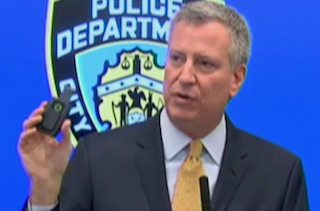 One consequence of the spat between City Hall and the NYPD: it could imperil the city's bid to host the Democratic National Convention.
The story comes via anonymous sources to the New York Daily News, so take it with a helping of salt. But according to a source close to the preparations, Dems are "worried about the optics. Will [the police] turn their backs on the mayor? They don't want side stories. The story should be the convention."

RELATED: NY Times Ed Board Goes after NYPD: 'Snarling Sense of Victimhood'
Another juicy but anon quote: "Until we know how and when [the mayor's problems with the police] are going to be resolved, the Democratic Party would not want to take the chance of this controversy being the backdrop for its convention selection," said a knowledgeable Democrat. "Imagine what the Republicans would say … that [the problems] 'show the failure of progressive leadership.'"
New York City was named a finalist last November along with Columbus, OH and Philadelphia. De Blasio and Senator Chuck Schumer have lobbied hard for Gotham.
The NYPD-City Hall conflict is the result of a long-standing contract dispute, but has metastasized since the Eric Garner grand jury decision provoked protests, and especially since the ambush-style murder of two NYPD officers. NYPD officers turned their backs on the mayor at officer Rafael Ramos' funeral, and have reportedly engaged in a policing "slowdown."
[h/t New York Daily News]
[Image via screengrab]
——
>> Follow Evan McMurry (@evanmcmurry) on Twitter
Have a tip we should know? tips@mediaite.com