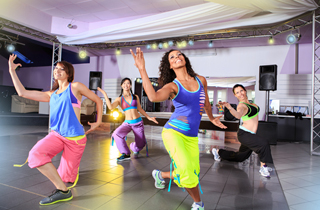 Zumba is a perfectly worthwhile physical activity for the kind of person who enjoys kind-of dancing, but may not be a) the best thing for cops or b) an expenditure funded by taxpayer dollars.
The New York Post reports that Deputy Commissioner of Personnel Michael Julian got chewed out by Commissioner Bill Bratton after he dropped $60,000 to convert an unused printing room at NYPD headquarters into a Zumba studio. And how do you turn a normal studio (which could be a justifiable project) into a Zumba studio? Why, by "install[ing] workout mats and flat-screen TVs in basement room S66," and purchasing a lot of Zumba equipment.
Police had hoped to use the room as a separate showering facility, but when Bratton saw how much the studio didn't resemble a shower room, he allegedly scolded Julian ("That's not what I wanted!") and ordered the equipment removed. (So if you find the NYPD selling a lot of gently-used Zumba equipment and flat-screen TVs, that's why.)
According to the Post, Julian was the kind of wacky eccentric who made these types of suggestions:
In January, he suggested arming cops with breath mints to combat cursing — and had 10,000 individually wrapped candies delivered to headquarters, police sources said at the time.

He said potty-mouthed cops can pop the mints when they feel the need to curse — but they were never used.

He also suggested that officers spray protesters who link arms with baby oil to slide them apart.
While it would be lovely to live in a world where the NYPD is run like a children's book, we (sadly) live in the real world, and Officer Amelia Bedelia was purportedly demoted from his former position as deputy commissioner of training for his whimsical suggestions.
[Image via Shutterstock]
—
>> Follow Tina Nguyen (@Tina_Nguyen) on Twitter
Have a tip we should know? tips@mediaite.com