NYPD Union Leader: Policing Rules, Black Congressional Staff Protesters, Are 'Stupid'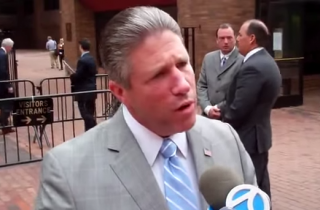 An NYPD union leader railed against policing laws and protesters during a meeting last Friday, calling the laws "stupid rules," and last week's black Congressional staff walkout "stupid shit."
In an audio recording obtained by Capital New York, Patrick Lynch, the president of the New York Patrolmen's Benevolent Association, cautioned his delegates to use "extreme discretion" in the wake of anger over Eric Garner's death, and the non-indictment of the cop who caused his death. The PBA is the largest police union in America.
But, he implied in a speech that got raucous applause, the police should use discretion because everyone else is stupid:
"If we won't get support when we do our jobs, if we're going to get hurt for doing what's right then we're going to do it the way they want it," he said last Friday. "Let me be perfectly clear. We will use extreme discretion in every encounter."

He also said, "Our friends, we're courteous to them. Our enemies, extreme discretion. The rules are made by them to hurt you. Well now we'll use those rules to protect us."
Because, as Lynch continued, even though they legally have to follow these rules, the rules themselves are "stupid":
"There's a book they make for us where if you carried it with you, you won't need to go to the gym," Lynch said. "Every time there's a problem, they tell us what we can't do. They tell us what we shouldn't do. They never tell us what we can do. We're going to take that book, their rules and we're going to protect ourselves because they won't. We will do it the way they want us to do it. We will do it with their stupid rules, even the ones that don't work."
Oh man, what else is stupid, Lynch? How about that time last week when minority Congressional staffers walked out of work to show solidarity with the Eric Garner and Ferguson protesters?
Lynch also complained about members of "the United States Congress on the steps of the Capitol raising their hand as if police officers aren't protecting their rights to do stupid shit like that…"
So stupid.
Lynch continued on his tirade against stupid people and their stupidity, like stupid Mayor Bill DeBlasio: ""He is not running the city of New York," Lynch said, citing the Mayor's disapproval of stop-and-frisk, and his desire to reform the NYPD. "He thinks he's running a fucking revolution."
When confronted with Lynch's remarks, a spokesman for the NYCPBA said that Lynch's message "was do the job right, do the job according to the rules, which is good advice anytime."
Even if those rules are, according to Lynch, stupid.
[h/t Slate]
[Image via screenshot/NYCPBA]
—
>> Follow Tina Nguyen (@Tina_Nguyen) on Twitter
Have a tip we should know? tips@mediaite.com