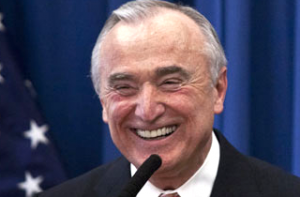 Something I just learned after living here for five years is that the NYPD can arrest people for peeing in public. I learned that because apparently, the City Council is reviewing a packet of legislation that would significantly decrease the amount of arrests for it. Okay, great!
Just in case you're not someone who regularly hides out from the cops while you relieve yourself on the corner of Essex and Grand, there are other exciting changes that could happen if the legislation gets a pass from the council. For instance, violating park rules would be handled through a civil process instead of criminal court. That means continuing to chill on the swings once dusk falls would no longer be a misdemeanor, which is change I can believe in.
Anything from drinking in public to making too much noise would be handled with a little bit more level-headedness if the Criminal Justice Reform Act passes, which is, all jokes aside, a great thing. It's probably no coincidence that I, a young white woman, didn't know I could be arrested or ticketed for making too much noise or breaking a posted city park rule, which I can't pretend I've never done. As Council Speaker Melissa Mark-Viverito told The New York Times, "We know that the system has been really rigged against communities of color in particular, so the question has always been, what can we do in this job to minimize unnecessary interaction with the criminal justice system, so that these young people can really fulfill their potential?"
Since Police Commissioner Bill Bratton took over the NYPD two years ago, there has been increased focus on small crimes like the ones the CJRA addresses. Mark-Viverito says that not only does this harm marginalized communities, but it clogs up the criminal justice system with thousands of low-level offenders, which is bad news for just about everyone involved, from tax payers to law enforcement officers.
There are 1.1 million open warrants in the city, and from 2001 to 2013, the most commonly-ticketed offenses were as follows, with 81% of those charged being black or Hispanic:
The most common offenses were consumption of alcohol (1.6 million), disorderly conduct (1 million), public urination (334,000), bicycling on the sidewalk (296,000) and operation of a motor vehicle in violation of the safety rules (213,000).
Those who oppose the bill worry that it is a means of decriminalization for a number of crimes, but its proponents are quick to assure the public that there is no decriminalization happening at all. All the bill advocates for is more measured responses to smaller crimes.
Stephen P. Davis is the NYPD's top spokesperson and while he has not reviewed the CJRA completely, he said, "We have been supportive of having a civil option for the police. It provides us more discretion."
Discretion is definitely key when peeing in the street.
[image via screenshot]
For more from Lindsey, follow her on Twitter.
This is an opinion piece. The views expressed in this article are those of just the author.