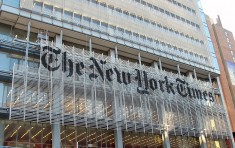 The 100 buyouts at the New York Times, announced earlier last month, have begun. Keith Kelly reported the other day that 50 unionized newsroom employees would be taking buyouts and the names have been trickling out since yesterday.
Here's a roundup of people who have reportedly taken the buyouts thus far via Michael Calderone, Gawker, Business Insider, and NYTPicker, which today confirmed that long-time Timesman Ralph Blumenthal is taking a buyout.
From Business Insider:
* Louis Uchitelle, who has covered economics for the NYT since 1987. Ironically, three years ago he was the author of "The Disposable American: Layoffs and Their Consequences."

* Geraldine Fabrikant, who joined the NYT in 1985, has six publishers awards and a Loeb Award. She previously worked at Business Week

* Alex Berenson, who has been a reporter at The Times since 1999. He reported from Iraq in 2003 and 2004. He has written 3 spy novels. We hear he plans to become a full time novelist while still making occasional contributions to the Times.

* Jonathan Glater, who joined The Times in September 2000 after a stint as a Wall Street lawyer
Gawker has a much longer list:
This list is unconfirmed, but the source is generally reliable.

* Claiborne Ray — Deputy editor of the Obituaries desk and Q&A columnist in Science Times
* Nancy Sharkey – Editor; see this link.
* Andy Revkin – Science Reporter/Dot Earth. (Described as "possible," not confirmed).
* George Kaplan — veteran national desk copy editor
* Juliet Gorman — a top web producer
* Mary Hardiman – Photo desk
* G. Paul Burnett — veteran staff photographer
* Jim Simpson – Photo editor
* Nicole Collins — A metro editor
* Barton Silverman – Veteran Photographer. He's still a "Possible," not confirmed.
* Additionally, eight more copy editors from various sections, three "Admin" personnel, and a foreign desk clerk are taking buyouts, according to our source.
Politico's Michael Calderone has some D.C. names: Stephen Labaton, Neil Lewis, David Johnston, and David Stout.
Managing editor Bill Keller has said the Times needs to shed 100 positions so we may still be looking at layoffs in the coming days.
Have a tip we should know? tips@mediaite.com