NYT Diligently Explains Why Their Article Was Accidentally Treated As Twitter Spam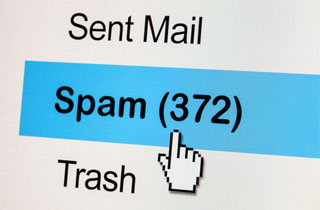 Sometimes, things get accidentally marked as spam, and then messages (or New York Times articles about Florida State University football players getting preferential treatment from the police) don't get read, despite how much they implicate FSU quarterback Jameis Winston in a sexual assault case.
Such an accident happened to the Times, which published a story about such police favoritism yesterday, only to have Twitter mark the website marked as "spam" and drive away crucial traffic. And so, the New York Times issued a…something:
For about an hour, Twitter treated as spam a link to the article about the car crash. Rather than going to the article, a reader was told that "the site you were trying to visit may be unsafe." Among the reasons that sites are blocked, the notice says, are threats of downloading malicious software or tricking a user into revealing personal information.
Ouch. That sucks. Well, at least the New York Times wasn't actually sending spam —
In a statement, a Twitter spokesman said that the New York Times link, or URL, "was mistakenly flagged as spam today, by an outside organization that tracks spam sources. We quickly restored access to the URL and apologize for the error."
Okay, Times, we get it, we know it's not your fault —
The spokesman declined to answer any other questions, and it was unknown whether the designation as spam reflected efforts by supporters of Florida State to block the article.
Maybe? That seems a bit far-fetched, but —
A New York Times spokeswoman, Danielle Rhoades-Ha, said in a statement, "This is the first time an NYT link has been flagged as spam on Twitter, to the best of our knowledge."
Whoa! We're sorry! We never intended to say the New York Times was some sort of spambot, chill out —
Twitter, like Google, Facebook and other popular sites, must balance being quick and automated in its responses — to act almost as quickly as those misusing the sites — and being slow and deliberative to prevent the wrong material from being blocked.
Okay, you're angry. We'd be angry too, but you've already explained to your readers exactly what happened. Why are you carrying on like —
Recently, Florida State fans have used sarcasm as a way of deflecting the media criticism online, rallying behind the team's quarterback, Jameis Winston, who was accused of sexual assault by a fellow student in 2012, a charge he denies. The local prosecutor found insufficient evidence to bring charges; Mr. Winston now faces a student disciplinary hearing.
…yeah, we don't get it anymore.
[NYT]
[Image via Shutterstock]
—
>> Follow Tina Nguyen (@Tina_Nguyen) on Twitter
Have a tip we should know? tips@mediaite.com