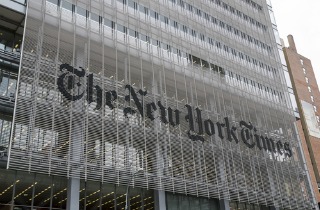 You may remember that earlier this year that The New York Times had a huge exposé about labor conditions in nail salons. Only a week later, Governor Andrew Cuomo acted and announced both investigations and new rules salons will have to follow.
Last month nail salon workers gathered en masse outside the New York Times building to protest what one deemed a "misleading" exposé.
Times public editor Margaret Sullivan addressed criticisms of the paper's exposé today, including from a former Times reporter who currently owns salons and Reason reporter Jim Epstein, who did a three-part series rebutting the Times. One issue in particular was employment ads, and this is the discrepancy Sullivan found:
This week, I asked editors involved with the nail salon investigation for response, particularly to one point that struck me as particularly troubling. This had to do with the employment ads that The Times said — toward the top of its first article — were plentiful in Asian-language newspapers in New York City. Mr. Epstein's translations of the ads don't jibe with how The Times has read some of them, and how the ads were portrayed in the Times editors' defense…

Mr. Epstein reports that the ads that The Times (in its letter defending the series) described as advertising a $40-per-day wage actually described a $40 manicure/pedicure. That was included in the employment ads as a way to suggest that the tips would be high. They don't prove low wages but rather suggest high tips, he wrote.

Both editors emphasized that they remain proud of the investigation and believe it is fundamentally solid, though they might have done some minor things differently now that they have had the benefit of hindsight.
She believes that "too much credence" was given to employment ads and says that there's not much scientific evidence to back its claims about workers being "poisoned" by the chemicals they use.
And here's Sullivan's conclusion:
My take: The series and its author, Sarah Maslin Nir, had admirable intentions in speaking for underpaid or abused workers. And the investigation did reveal some practices in need of reform. But, in places, the two-part investigation went too far in generalizing about an entire industry. Its findings, and the language used to express them, should have been dialed back — in some instances substantially…

I'm always glad to see The Times take on situations in which the poor and voiceless are exploited. But, in doing so, it must protect its reputation for accuracy and rigor above all.

My recommendation is that The Times write further follow-up stories, including some that re-examine its original findings and that take on the criticism from salon owners and others — not defensively but with an open mind.
[image via Victor Maschek/Shutterstock]
— —
Follow Josh Feldman on Twitter: @feldmaniac
Have a tip we should know? tips@mediaite.com
Josh Feldman - Senior Editor