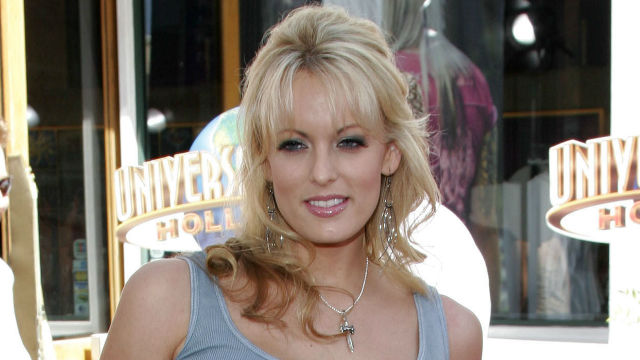 Remember how Stormy Daniels was going to be performing in South Carolina yesterday? Well, she did. And reporters were there.
The New York Times in particular has an in-depth report from the airport strip club. And while she did not directly address the reason she's in the news, she did offer some brief comments:
"Nobody wants to be seen with me right now," the performer, known as Stormy Daniels, said in a brief interview, laughing softly behind an assemblage of nude pictures of herself. The line at her table belied the point…

Pressed on Saturday, Ms. Clifford responded to any question about Mr. Trump with a wordless grin and a shaking head…

"Imagine coming back when you're the most insecure," she said of her return. "It's the only time I've ever gone onstage and was actually scared."

She was asked what it had been like to be Stormy Daniels over the past week. "Stressful," she said. "And amusing."
Daniels, of course, is at the center of another Trump-related scandal over an alleged affair between her and the president years ago and the hush money lawyer Michael Cohen allegedly paid her in 2016.
But Matt Flegenheimer's report also contains some amazing details from the Trophy Club, like this tidbit about an unnamed member of the press:
Dancers pawed playfully at their prey, flipping their hair at patrons like a fishing line.

"Alright — one," a member of the news media relented eventually, disappearing for a few minutes as a dancer led him to a back room. She returned a short while later to flip her hair at the other scribes.
The vividly detailed report also contains the sentence, "The music came on. The clothes came off. And an airport strip club claimed its piece of the American presidency."
One person requested that Daniels sign their copy of Fire and Fury, while most people declined to give their names "because, well, they were spending their Saturday night at a strip club by the airport."
And in case you're wondering too…
To those asking, yes, this will be a confusing expense report to file. https://t.co/mcno3lfbMX

— Matt Flegenheimer (@mattfleg) January 21, 2018
You can and should read the full report here.
[image via Tinseltown / Shutterstock.com]
— —
Follow Josh Feldman on Twitter: @feldmaniac
Have a tip we should know? tips@mediaite.com
Josh Feldman - Senior Editor