Obama Administration Health Care Official Steps Down Ahead Of SCOTUS Ruling On Reform Law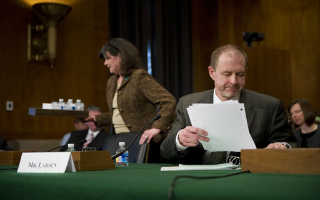 An Obama administration official responsible for overseeing the implementation of several key aspects of the health care reform law stepped down on Friday. The move has prompted some to speculate if his resignation is a sign that the administration is preparing for a Supreme Court decision on the constitutionality of the Patient Protection and Affordable Care Act that will be unfavorable to the White House.

RELATED: Senate Democrats Warn Overturning Health Care 'Grave For Nation,' Good For Democratic Electoral Hopes
Steve Larsen, outgoing head of the Department of Health and Human Services Center for Consumer Information and Insurance Oversight, will step down next month. Politico reports that he will move on to serve as executive vice president of OPTUM, a health service provider within UnitedHealth Group.
With the Supreme Court preparing to hand down a ruling that may overturn part or all of the President's signature 2010 health care reform law, preparations have already begun for what comes after.
There has been early speculation that the White House is already aware of the Supreme Court's ruling – which the Justices came to in March.
The White House has intimated that the individual mandate, once argued as a central pillar of the legislation that would finance the expansion in coverage to millions of uninsured, could be severed and the law would still remain viable. The administration's Solicitor General, Donald Verrelli, argued the precise opposite before the Court in March.
In late May, the President's reelection campaign floated to donors that the President would have to tackle a more permanent solution to health care reform in his second term.
Finally, Obama's allies have begun to spin the political benefits that would accompany the overturning of the mandate or the entire law. Once the Democrats are free from having to defend the unpopular law, their electoral prospects would brighten – or so the theory goes.
None of this inspires a particularly overwhelming level of confidence that the health care reform law will survive judicial scrutiny. Nor does this suggest that there is an Obama administration plan for a post-ACA world.
The reality that the law could be overturned, and that the White House would be struck that deep and wounding political blow, has probably been something that many Obama administration policy advisors were loath to embrace.
For her part, on June 7, HHS Sec. Kathleen Sebelius told a health care town hall that she remains confident that the law will be upheld by the Court, but "having said that, we'll be ready for court contingencies" if the SCOTUS throws the Obama administration a curve ball.
I'll believe it when I see it.
h/t Politico
> >Follow Noah Rothman (@Noah_C_Rothman)on Twitter
Have a tip we should know? tips@mediaite.com