Obama Administration Officials Meet With Lobbyists, And You Should Be Okay With That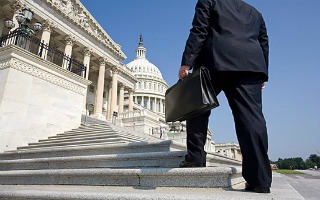 The release of portions of the White House's visitor logs on Monday show that Obama administration officials took several meetings with registered lobbyists in January. The President himself took some heat in February of last year when it was revealed that he met with lobbyists outside of the reach of the regularly disclosed visitor log. This should not be newsworthy but for the President's oft-broken 2008 pledge to limit the access of registered lobbyists to his administration. Amid a contentious presidential election when nothing seems sacred, President Obama's political opponents should restrain themselves when confronted by the powerful urge to make hay of these meetings. To do so would be to embrace a foolish attack on America's constitutional system of government.

RELATED: Lobbyists Lobby For President Obama To Stop Being Mean To Lobbyists
Lobbyists are human and should be neither defended nor impugned as a group. Individuals are open for censure, should they warrant it (former disgraced lobbyist Jack Abramoff is one such individual). The institution of lobbying, however, should be beyond such attacks.
K Street, where many lobbying firms are located in Washington D.C., has been under rhetorical assault for decades but those attacks have recently resulted in public policy to restrict lobbying activities.
The regulations on those individuals whose job it is to petition their government on behalf of a given industry or advocacy group are so onerous that they force many people who are only peripherally engaged in lobbying to register as such. The registered lobbyists must wear this scarlet letter even after they have ceased to lobby as though it was somehow a stain on their character.
A current or former registered lobbyist is forced to explain away this perfectly acceptable portion of their professional lives as if they had been complicit in a crime – and those who register as a lobbyist can certainly forget a future political career in elected office and may themselves become the subject of a political attack should they join a campaign as a knowledgeable advisor.
But fewer and fewer individuals who are knowledgeable enough to petition their government have to worry about registering as a lobbyist – new laws that regulate lobbying have forced many influence peddlers underground.
A New York Times article from 2010 found that, soon after Democrats retook control of Congress in 2007, sweeping new regulatory laws on lobbying activities forced the number of registered lobbyists to plummet.
President Obama went a step further when he took office, forcing federal officials to not meet with registered lobbyists relating to any federal project that was funded with funds from the American Reinvestment and Recovery Act. Before dropping most of his pre-election pledge to bar lobbyists' access to his administration, Obama prohibited those with a background as a lobbyist from taking positions within his administration or transition team.
The result was a predictable drop in the number of registered lobbyists:
Some Democrats said the president's prohibitions had motivated them to terminate their registrations and keep lobbying below the registration threshold; all insisted on anonymity to discuss the reasons for their decision.
Lobbying is the constitutionally protected activity of petitioning the government for the best interests of a constituency – be it members of an industry or firm or advocacy group. Too often, this is construed as moneyed interests petitioning their government for favorable treatment at the expense of the public good. This is, like so much in our public discourse, a gross oversimplification.
The American electorate should be disabused of the cartoonish image of lobbying as a practice that consists wholly of shadowy, fedora-clad figures slipping cash-filled envelopes into the waiting hands of America's elected officials.
Lobbyists are hardworking, knowledgeable, well-connected parts of the system of checks that were envisioned by the founders and enshrined into the Constitution.
It would be trite of Republican office holders or seekers to attack President Obama's administration for meeting with lobbyists. Indeed, if the President had not indulged the simplistic, populist instinct to pledge not to meet with lobbyists, this attack would be utterly meritless. Obama invited this attack on his record but the desire to do so should be repressed.
Obama scored points with the 2008 electorate by demonizing this class of political professionals, but that should be no reason for his opponents to compound his folly by doubling down on a baseless charge. The President's critics should leave the Obama administration's record of meeting with lobbyists alone.
Have a tip we should know? tips@mediaite.com