Obama Administration Reportedly Deliberately Edited and Whitewashed Benghazi Talking Points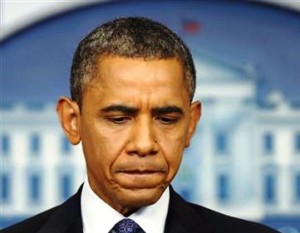 A new report by five House Republican committee chairmen, released Tuesday afternoon, claims the White House and State Department deliberately removed references to al Qaeda, as well as references to other recent attacks in Benghazi, from its talking points regarding the Benghazi attack. According to the report, internal emails, during the days immediately following the September 11, 2012 attack on the compound, show that such references were removed.
First reported on by Eli Lake of The Daily Beast, the new report claims that: "To protect the State Department, the Administration deliberately removed references to al-Qaeda-linked groups and previous attacks in Benghazi in the talking points used by Ambassador Rice, thereby perpetuating the deliberately misleading and incomplete narrative that the attacks evolved from a demonstration caused by a YouTube video."
According to the report, although David Petraeus (at the time, CIA director) briefed a House intelligence committee on September 14th, noting five previous attacks in Benghazi since April 2012 and potential links to al Qaeda, as well as information that extremists participated in the attack, this information was then selectively removed:
When draft talking points were sent to officials throughout the Executive Branch, senior State Department officials requested the talking points be changed to avoid criticism for ignoring the threat environment in Benghazi. Specifically, State Department emails reveal senior officials had "serious concerns" about the talking points, because Members of Congress might attack the State Department for "not paying attention to Agency warnings" about the growing threat in Benghazi. This process to alter the talking points can only be construed as a deliberate effort to mislead Congress and the American people….

Those edits struck any and all suggestions that the State Department had been previously warned of threats in the region, that there had been previous attacks in Benghazi by al-Qa'ida-linked groups in Benghazi and eastern Libya, and that extremists linked to al-Qaeda may have participated in the attack on the Benghazi Mission.
U.N. Ambassador Susan Rice then reportedly used those revised, scrubbed talking points in her remarks to the media that Sunday. As readers may recall, Rice famously even stated that the cause of the attack was a YouTube video.
Democrats have contested the report's findings, claiming it is "partisan."
See below for the report's Executive Summary: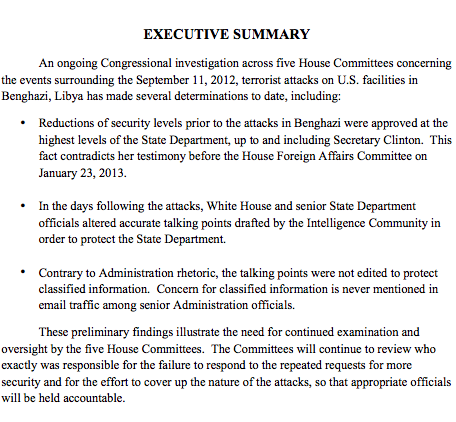 —
[h/t to The Daily Beast]
Follow AJ Delgado on Twitter >>> @missADelgado
Have a tip we should know? tips@mediaite.com