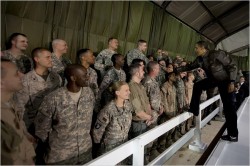 By now President Obama's stealth trip to Afghanistan trip yesterday is no longer a secret. Obama, whom everyone including the reporters traveling with him thought was spending the weekend at Camp David (more than a few White House watchers noting Obama rarely goes there, so perhaps that should have been a hint), took off under cover of darkness. Literally…apparently even the window shades on Air Force One remained shut for the entire flight.
Two interesting points to note about the trip: what Obama said to the troops and who wasn't on the plane. First the troops. The President apparently felt the cable coverage of the aftermath of last week's health care bill vote was elevated enough to warrant words of reassurance to the troops.
'I know that sometimes when you're watching TV, the politics back home may look a little messy, and people are yelling and hollering, and Democrats this and Republicans that. I want you to understand this: There's no daylight when it comes to support of all of you. … [A]ll of you show all of America what's possible when people come together, not based on color or creed, not based on faith or station, but based on a commitment to serve together, to bleed together and to succeed together as one people, as Americans.'
Basically, we haven't forgotten about you in all this domestic hysteria. Secondly, who was on board the plane. Not a reporter from the New York Times. The Times had a photographer but that was it — hence the Washington byline on yesterday's homepage story about the trip. And here's where it gets interesting. Michael Scherer of Time (who was on the trip, read his Twitters here) reports that Press Secretary Robert Gibbs (who broke the news via Twitter) "informed certain news organizations that were scheduled for presidential travel on Thursday" subsequently "warning that if the news leaked out before the president arrived in Kabul, the trip would be canceled." But Gibbs also invited along a number of news orgs in addition to those who were scheduled.
Following the regular pool rotation [ABC was the scheduled TV pool for this weekend], Gibbs invited 14 journalists to travel on Air Force One, including a television crew from ABC News and reporters from the Wall Street Journal, TIME, National Public Radio and the three major wire services, Bloomberg, Reuters and the Associated Press.
But not a reporter from the New York Times, who must have known about the trip since one of their photographers was included in the press pool. Both a notable absence and a missed opportunity, particularly since this was Obama's first trip to a war zone.
Have a tip we should know? [email protected]