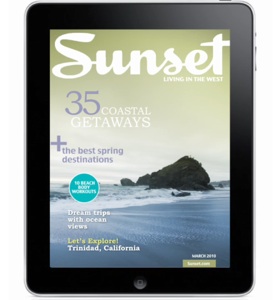 The convergence of print and digital publishing models has been a topic of conversation in media circles for well over a decade, but the oft-discussed "cataclysmic shift" has mostly been hyperbole. Until now. With the imminent launch of Apple's iPad, and the numerous slick demos that have been revealed for any or all tablet versions in the last few months, that cataclysmic shift is upon us, and if there is any consensus in the publishing world, it's that it's all very much a work in progress. Case in point: what is the function of an magazine cover for an iPad?
Writing for TechCrunch, Erick Schonfeld reports:
But what should a magazine cover look like on the iPad? After all, the cover is still the gateway to the magazine. Theoretically, it will still be the first page people see, giving them hints of what's inside and enticing them to dive into the issue. One way these covers could change is that instead of simply repurposing the static photographs from the print edition, the background image itself could be some sort of video loop. Jesse Rosten, a photographer in California, created the video mockup below of what a cover of Sunset Magazine might look like on the iPad (see video below).
The cover example created by Rosten is quite beautiful and contemplative; using just the right amount of rich media (video and motion graphics) without feeling like another medium. However, the digital cover version of Sunset, the monthly Time Inc. shelter and lifestyle title has a very different function than say, a theoretical People cover – one that aims to get the most interesting personalities of the moment, with cover lines that aim to scream "buy me off the newsstand!" And what of that newsstand?
Designers of magazine covers make layout and copy decisions primarily based on their target audience: A cover for a subscriber-heavy title is very different than a title that relies heavily on newsstand sales. So perhaps questioning the function of a magazine cover for a digital platform is premature; we first need to know what that digital newsstand will look like. And lets not confuse the web version of magazines – there is no buy-in for most readers to access say people.com or sunset.com (there is a reason that most magazine websites first emerged from their marketing departments and not their editorial groups.)
Digital magazine covers that feature video will work for some titles, and its easy to see fashion titles using beautiful clips from fashion shoots to boost sales. But those titles that feature pick-up photography (such as Star and US Weekly) will not have that luxury.
To say that it is a fascinating time for publishers is not an understatement; as we've pointed out before, the list of odd questions to emerge (like, what does my magazine sound like) will only get longer before they get shorter.
iPad Sunset Mag Cover Spec from Jesse Rosten on Vimeo.
Have a tip we should know? tips@mediaite.com