Obama Advisor Addresses Controversial NY Times Interview About Manipulating Reporters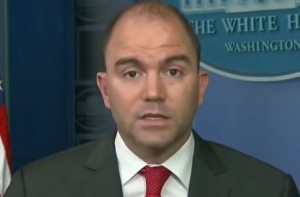 Amid controversy over a New York Times profile that depicted White House officials bragging about how they duped reporters and the public about the Iran deal, the subject of that profile Ben Rhodes wrote a longform response to his critics late Sunday night.
The New York Times profile alleges that Rhodes and the Obama administration created an actively misleading account of the lead up and purpose of the Iran deal. Rhodes himself explains how he fed talking points to foreign policy experts to create an "echo chamber" to parrot the administration line on the Iran deal. Rhodes' assistant Ned Price added that there were those in the media who could also be counted on to repeat whatever the administration said. "We have our compadres," he said.
After facing criticism for the profile, Rhodes wrote a Medium post denying any impropriety or deceit on the White House's part. "Given our interest in making sure that any misinformation was corrected, and that people understood our policy, we made a concerted effort to provide information about the deal to any interested party, including to outside organizations and any journalists covering the issue," he said. "This effort to get information out with fact sheets, graphics, briefings, and social media was no secret — it was well reported on at the time."
"It wasn't 'spin,' it's what we believed and continue to believe, and the hallmark of the entire campaign was to push out facts…" Rhodes continued. "Moreover, the outside organizations who did effectively make the case for the Iran deal did so not because we told them to — they did so because they also believed in the merits of the deal. Many of the deal's supporters were organizations dedicated to nuclear non-proliferation, diplomacy, and engagement with Iran."
"A review of the press from that period will find plenty of tough journalism and scrutiny. We had to answer countless questions about every element of the deal and our broader Iran policy from reporters," he concluded.
[Image via screengrab]
——
>>Follow Alex Griswold (@HashtagGriswold) on Twitter
Have a tip we should know? tips@mediaite.com