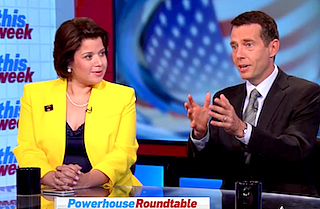 David Plouffe, widely considered the architect of Barack Obama's overwhelming victory in the 2008 presidential elections — yea, the Karl Rove of Obama — has been tapped to run another campaign with a super-popular online presence: Uber.
Re/Code broke the news that Plouffe had accepted a position as Uber's Senior Vice President of Policy and Strategy, and will be in charge of, as its own owner described it back in May to Kara Swisher, campaigning against city-run taxi services.
"You're changing the way cities work, and that's fundamentally a third rail," Uber CEO and founder Travis Kalanick told Swisher at the site's Code Conference. "We're in a political campaign, and the candidate is Uber and the opponent is an asshole named Taxi."
Considering how valuable former White House officials are to private companies, it's not surprising that Uber snatched Plouffe, and the taxi company was reportedly interested in snatching up Jay Carney after he stepped down as Obama's press secretary. But why is Plouffe, the man who taught the world that the Internet is really, really good at raising piles of money, joining Uber? As he wrote in a blog post:
Uber has the chance to be a once in a decade if not a once in a generation company. Of course, that poses a threat to some, and I've watched as the taxi industry cartel has tried to stand in the way of technology and big change. Ultimately, that approach is unwinnable. But I look forward to doing what I can right now to ensure drivers and riders are not denied their opportunity for choice in transportation due to those who want to maintain a monopoly and play the inside game to deny opportunity to those on the outside.
[Re/Code]
[Image via screenshot]
—
>> Follow Tina Nguyen (@Tina_Nguyen) on Twitter
Have a tip we should know? tips@mediaite.com