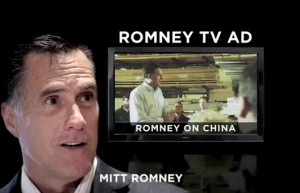 Just a day after Mitt Romney's presidential campaign released an ad attacking President Obama over manufacturing job losses and promising to get tough with China, the Obama campaign is hitting back with an ad that puts the focus back on Romney's time at Bain Capital, and that company's "pioneering" outsourcing work. The gist of the Obama campaign's ad appears to be that the problem with working at some Bain-owned companies is that, half an hour later, you wish you still had a job.
Romney has long campaigned on a promise to "label China as a currency manipulator on Day One," which plays well with crowds, but which even Republicans like Speaker of the House John Boehner disagree with. Like much of Romney's foreign policy bluster, his attitude on China, whom President Obama has routinely taken action against with the WTO, doesn't quite match up with his past statements. As Jay Carney noted awhile back, Romney was critical of President Obama when he took action against China in 2009.
China, as you might expect, wasn't too happy with Romney's ad, and got tough right back at him, noting via state media that it's "ironic that a considerable portion of this China-battering politician's wealth was actually obtained by doing business with Chinese companies before he entered politics."
The Obama ad opens with a clip lifted from the Romney ad, featuring the candidate saying "It's time to stand up to the cheaters and make sure we protect jobs for the American people."
"Mitt Romney? Tough on China?" intones the grim narrator. "Romney's companies were called pioneers in shipping US manufacturing jobs overseas."
That's true, they were, even while Mitt Romney was sole shareholder, owner, CEO, and Grand Moff, but totally not responsible for anything they did.
"Even today part of Romney's fortune is invested in China," he continues. Also true, but seriously, what can a guy do about the stuff his blind trust invests in?
"Romney's never stood up to China. All he's done is send them our jobs," the ad concludes. That's demonstrably not true. He also sent them his face, to be made into Olympic lapel pins.
Here's the ad, from Obama For America:
Follow Tommy Christopher (@TommyXtopher) on Twitter.
Have a tip we should know? tips@mediaite.com