Mark Halperin's Mideast Crisis Double Standard: Romney Should Talk Policy, Obama Should Talk Politics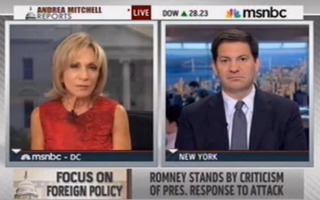 Author and TIME magazine reporter Mark Halperin joined MSNBC's Andrea Mitchell on Friday to offer his informed opinion about the best course of action that both President Barack Obama and GOP nominee Mitt Romney should take to address the unfolding crisis in the Middle East. Halperin, a smart reporter who can usually take the 30,000 foot view of politics even amid a campaign season, offered a strikingly contradictory recommendation. In his estimation, Romney needs to outline a distinct policy vision to address the crisis whereas Obama should hope to ride this out and focus on politics. Halperin's in luck, because that appears to be the course that both candidates have embarked on.

"Is weakness and the whole argument that we are, anytime we talk to our adversaries, apologizing for the U.S. position – is that the core of [Romney's] policy," Mitchell asked.
"It's a good question," Halperin replied, inexplicably.
Whether or not the statement issued and reaffirmed by the U.S. Embassy in Cairo condemning the makers of a film which insulted Islam and drove thousands of Muslims across the world onto the streets to protests was an "apology" or not is a subjective judgment call open to debate. Certainly, the White House felt it was damaging enough to disavow any prior knowledge of the statement hours after it arguably exacerbated the crisis. But to interpret Romney's argument that the embassy statement was a meager defense of American First Amendment rights as his having suggested that any open dialogue with America's adversaries is a show of weakness is nothing less than a misinterpretation — perhaps even a willful one.
Moving on. Halperin went on to criticize Romney for suggesting that the president has himself traveled the world and issued a series of apologies for America's actions. "He needs to find some more specifics," said Halperin. "How does his policy differ?"
Fine. Good, in fact. This crisis and the administration's passive response to it is an apt time to frame a real and distinct policy vision when it comes to America's relationship with the volatile Middle East. Given what Americans have witnessed in the past 72 hours, voters are now probably more receptive to hearing substantive critiques about the Obama doctrine than ever.
Halperin said that Romney may want to give a policy speech that focuses on specifics – for elites – and on broad themes for, well… non-elites. Read into that what you may.
Mitchell went on to ask how President Obama's conspicuously light schedule next week ahead of the gathering of the United Nations General Assembly in New York might focus voters' minds on the president's lack of attention to the ongoing crisis in the Mideast. "Is that a wise course for the White House? To think that they can finesse foreign policy," Mitchell asked.
Halperin said yes, from a political point of view it is a wise course for the president to avoid meeting with foreign leaders directly involved in this crisis next week.
"I think voters in the battleground states would rather hear about politics," said Halperin. "At least, if the crisis abates to some extent, than they care whether he president has the kind of bilateral meetings that presidents normally fit into their schedule when they come here for the General Assembly."
Got that? Mitt Romney, the Republican presidential nominee, needs to flesh out his policy proscriptions to address a violent crisis abroad in which four Americans, one a high ranking official, have lost their lives. The President of the United States, meanwhile, is better served by lying low and hoping this crisis blows over. He should stick to talking about politics.
It's hard to find such a stunningly clear example of the double standard articulated within one three minute clip. The president has not outlined any detailed plan for how to address the crisis unfolding in the Muslim world. In Halperin's view, he is under no immediate obligation to do so.
The press is fully convinced that Americans are repulsed that the Romney campaign would dare criticize Obama's handling of this ongoing episode when they did. One wonders if press would ever have deemed it appropriate for him to weigh in, given how events in the Middle East are still unfolding. But the fragile sensibilities of the members of the political press are meaningless to American voters when compared to the assassination of a U.S. ambassador – the first such horror in 33 years. American voters care deeply for the security of their diplomatic corps, and they will show how deeply, in unmistakable terms, the coming days.
> >Follow Noah Rothman (@Noah_C_Rothman) on Twitter
Have a tip we should know? tips@mediaite.com