Obama 'Concerned' About More Snowden Leaks, But Won't 'Be Scrambling Jets To Get A 29-Year-Old Hacker'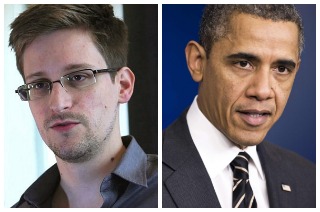 Speaking at a press conference in Senegal on Thursday, President Obama defended his approach to the ordeal involving NSA leaker Edward Snowden. Noting that the damage has been done, Obama said he wouldn't be "scrambling jets" to get Snowden back to the U.S. — but also raised concerns about more leaks.
"I have not called President Xi personally or President Putin personally and the reason is because number one: I shouldn't have to," Obama said. "This is something that routinely is dealt with between law enforcement officials in various countries and this is not exceptional from a legal perspective."
The president also appeared to downplay the importance of extraditing the leaker, saying the U.S. would use "well-established" channels to do so. "No, I'm not going to be scrambling jets to get a 29-year-old hacker," he said.
Related to his earlier point, Obama said he would not have one case "suddenly being elevated to the point where I've got to start doing to do wheeling and dealing and trading on a whole host of other issues simply to get a guy extradited so that he can face the justice system in the United States."
That said, the president did voice some concern. "I continue to be concerned about the other documents he may have," Obama said. "He has those documents. He's released some of them but not all of them have been released."
Snowden, who turned 30 last week, is believed to still be in an airport in Moscow as we waits for Ecuador to consider his request for asylum.
Watch President Obama's remarks below:
Have a tip we should know? tips@mediaite.com