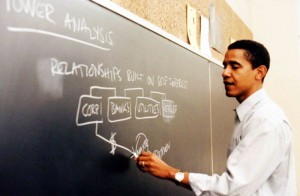 Leading up to President Obama's address to schoolchildren on September 6, at least some Americans were upset about the president's direct access to the hearts and minds of their children. But after Obama's remarks were revealed to be wholeheartedly apolitical — really more of a pep talk for the first day of school — the news cycle moved on and no immediate harm was reported.
But now a fresh log on the sleeping fire: A video of children at a public school in Burlington Township, New Jersey learning a song in praise of Barack Hussein Obama to the tune of "Jesus Loves the Little Children" for Black History Month last February. The video was picked up by Matt Drudge ("SHOCK VIDEO: School kids taught to praise Obama") and has become an aftershock to the outrage earlier this month.
New Jersey's education commissioner has ordered a review of the school, B. Bernice Young Elementary School, which was placed on lockdown after threats on the principal's life. Another school in Arkansas with a similar name received complaints from as far away as Canada.
It seems as though the teacher responsible for the song retired at the end of the last school year, so there might not be any wrists left to slap. Plus, the video wasn't really a problem until after Obama's school-year inauguration. The video was actually posted early this summer by Charisse Carney-Nunes, senior VP of The Jamestown Project and author of "I Am Barack Obama." Carney-Nunes removed the video but another user (whose profile shows scene labeled "Socialism" showing a blue man holding a bag of money being shot in the head, by the way) reposted the video on his channel, where it has received over 600,000 views. Meanwhile CBS has reported that Drudge and Fox have the video and that people are mad.
Hey, remember that article from earlier this summer about how politically motivated bloggers hand feed obscure, mildly shocking videos to the cable news networks and then whatever they've dug up, sort of, becomes the news. Uh-huh.
(Video with lyrics, here)


Related:
"Here's How Pres. Obama Plans To Brainwash America's Youth" [Mediaite]
"President Obama Is Coming For Your Children" [Mediaite]
"You Get What You Pay For: Journalism Suffers When the Reporting is Free [Mediaite]"
Image from Illinois Family Institute.
Have a tip we should know? tips@mediaite.com