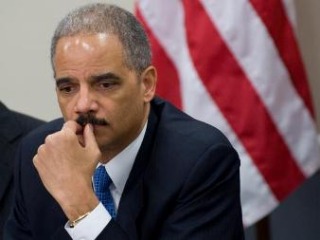 The Department of Justice has said President Obama is asserting executive privilege over disputed documents related to Operation Fast and Furious, the botched gun-running operation that has Attorney General Eric Holder in hot water. The move means the DOJ can withhold the documents from the House Oversight Committee, whose hearing to consider Holder in contempt of Congress has begun.
In response, panel chair Darrell Issa said the "untimely" move from the DOJ isn't reason enough to delay the proceedings. Specifically, "Issa's committee wants documents that show why the Department of Justice decided to withdraw as inaccurate a February 2011 letter sent to Congress that said top officials had only recently learned about Fast and Furious."
According to CNN, a DOJ spokesperson "reiterated Holder's position that the documents would show Holder had nothing to hide about his role in Fast and Furious."
Some background on Fast and Furious, via CNN:
Issa has accused the attorney general of stonewalling an investigation into Fast and Furious and how the Justice Department provided Congress with erroneous information about it. The department says it already has handed over more than 7,000 pages of records to House investigators, and that the remaining material Issa wants could jeopardize criminal prosecutions.

The Bureau of Alcohol, Tobacco, Firearms and Explosives launched Operation Fast and Furious out of Arizona to track weapon purchases by Mexican drug cartels. However, it lost track of more than 1,000 firearms that the agency had allowed straw buyers to carry across the border, and two of the lost weapons turned up at the scene of the killing of U.S. Border Patrol agent Brian Terry.
As for Obama's move, this is his first use of executive privilege. According to CBS News White House Correspondent Mark Knoller, President George W. Bush asserted executive privilege six times, and President Bill Clinton 14 times, "involving same category of documents at issue today."
Below is Holder's letter to the president, seeking executive privilege:
Attorney General Holder's letter to President Obama seeking executive privilege over 'Fast and Furious' doc…
Have a tip we should know? tips@mediaite.com