Obama Nominee For Iraq Ambassador Withdraws After Emails Disclosed Affair With Reporter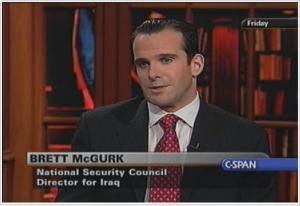 Brett McGurk, President Obama's nominee for the US Ambassador to Iraq, recently gained media attention due to the publication of leaked emails that revealed his affair with Wall Street Journal reporter Gina Chon. Following the disclosure — which raised questions about a conflict of interest — and Chon's resignation, McGurk has officially withdrawn his nomination.
RELATED: Emails Revealing Affair With WSJ Reporter Endanger Iraq Ambassador Nomination
According to the New York Times, McGurk's letter to the president said "he was stepping aside because it was important for the United States Embassy in Baghdad to have a permanent new leader soon. With summer recess approaching, a confirmation fight over Mr. McGurk could have dragged on for weeks or months."
"Iraq urgently needs an ambassador," Mr. McGurk wrote Mr. Obama and Secretary of State Hillary Rodham Clinton. "The country is in the midst of a political crisis and our mission is undergoing rapid transformation."
The vote on his nomination was scheduled for Tuesday but likely would have been pushed forward given the resistance from Republican members. Of the nine Republicans on the Senate Foreign Relations Committee, six wrote "to the president last week urging him to pick someone else for the Baghdad post, citing Mr. McGurk's 'poor judgment' in sending the e-mails."
In the letter, McGurk also wrote about witnessing his wife's involvement in the incident:
"The most difficult part of this process, however, was watching my wife become a part of it," he wrote. "She is the most precious thing in the world to me, and the depiction of our relationship has been both surreal and devastating. We have also witnessed real sacrifice and suffering in Iraq and know that nothing should be allowed to distract from the pressing work that must be done to build a better future there."
About a week ago, Chon, too, resigned from her position at the WSJ. The paper's statement said she failed to disclose her relationship with McGurk, and that she "violated the Dow Jones Code of Conduct by sharing certain unpublished news articles with Brett McGurk, then a member of the U.S. National Security Council in Iraq."
Previously, State Department spokesperson Victoria Nuland had responded to the scandal, affirming McGurk's qualification for the position:
"He spent the better part of the last decade serving our country in and out of Iraq, working for a Republican administration, a Democratic administration," she told reporters. "He is in our view uniquely qualified to serve as the ambassador and we urge the Senate to act quickly on his nomination," she said.
The two met when they were both working in Iraq in 2008. Chon and McGurk are now married.
Have a tip we should know? tips@mediaite.com