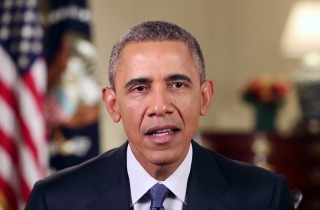 President Barack Obama used his weekly address to the nation to hammer the Republican Party for delaying Loretta Lynch's nomination for Attorney General.
Obama lauded Lynch, the current U.S. Attorney for the Eastern District of New York, as a "tough, independent, and fair" lawyer who has a distinguished career. The president nominated Lynch four months ago, but Senate Republicans are currently delaying her confirmation vote until the Senate passes a human trafficking bill, which has been held up while Democrats and Republicans argue over an abortion provision in the bill.
Obama said the holdup is simply about politics, and that senators from both parties support her nomination.
"Republicans promised that Congress would function smoothly with them in charge," Obama continued. "Here's a small chance for them to prove it. Congress should stop playing politics with law enforcement and national security."
The issue has been hotly contested in Congress, with one prominent Democratic senator claiming the GOP is making Lynch, an Africa-American, "sit in the back of the bus." Both Sen. John McCain (R-AZ) and TVOne host Roland Martin roundly criticized that remark and demanded an apology from Durbin. In a previous interview, Obama and current Attorney General Eric Holder dismissed the idea that Lynch's race was a factor in the delay.
Former New York City Mayor Rudy Giuliani (R), who has worked extensively with Lynch in the past, echoed Obama's concerns earlier this week when called Lynch an "extraordinary appointment" and urged Republicans to confirm her. Meanwhile, McCain doesn't think any Republicans should vote to confirm Lynch given her support of the president's executive actions on immigration reform.
Watch the video below, via The White House:
[Image via The White House / screengrab]
— —
>>Follow Andrew Desiderio (@forza_desiderio) on Twitter
Have a tip we should know? tips@mediaite.com