Obama: Why Would Biden and Hillary Subject Themselves to 'Undignifying Process' in 2016?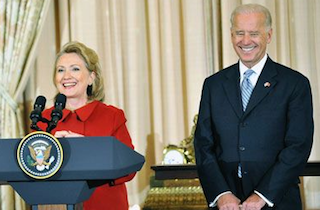 Evan Osnos' in-depth profile of Joe Biden's influence on the Obama administration's foreign policy includes some chilling details about the time the vice president told Vladimir Putin he couldn't see his "soul," as well as his response to accusations made by former Defense Secretary Robert Gates in his recent book Duty: Memoirs of a Secretary at War
. But the article also contains some insight into what President Barack Obama is thinking ahead of the 2016 presidential election, which could pit Biden against Hillary Clinton.
"I think Joe would be a superb President," Obama told Osnos. "He has seen the job up close, he knows what the job entails. He understands how to separate what's really important from what's less important. I think he's got great people skills. He enjoys politics, and he's got important relationships up on the Hill that would serve him well."
But all that being said, Obama could not fathom why Biden, or Clinton, for that matter, would want to go through the process actually running.
"I think that, for both Joe and for Hillary," he said, "they've already accomplished an awful lot in their lives. The question is, do they, at this phase in their lives, want to go through the pretty undignifying process of running all over again."
"You have to have that fire in the belly, which is a question that only Joe can answer himself," Obama continued. "In the meantime, what I'm very grateful for is that he has not let that question infect our relationship or how he has operated as Vice-President. He continues to be extraordinarily loyal. He continues to take on big assignments that may not have a huge political upside."
Read the full profile (for free) on newly-revamped newyorker.com.
[Photo via State.gov]
— —
>> Follow Matt Wilstein (@TheMattWilstein) on Twitter
Have a tip we should know? tips@mediaite.com