Obama's Head of Disaster Relief: Trump's Puerto Rico Response Is 'Disaster Management Malpractice'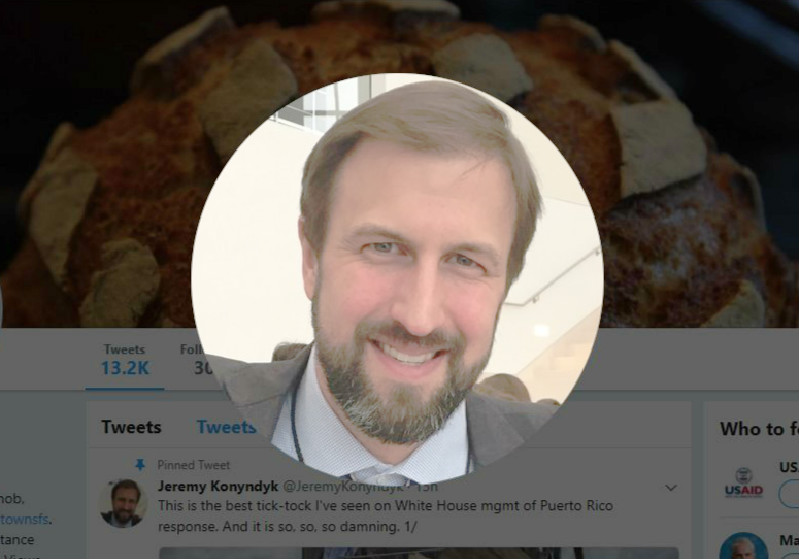 Last night, the Washington Post ran a story about how President Donald Trump's lengthy stay at his golf club last weekend hurt the administration's response to Puerto Rico in the aftermath of Hurricane Maria. The report noted that over a four-day period, Trump took no meetings about Puerto Rico, and instead focused most of his attention at that time on his public feuds with the NFL and North Korean dictator Kim Jong-un.
After the Post story ran, a former Obama administration official took to Twitter to highlight just how "damning" the report was and how it showed that the White House's response to the crisis in uerto Rico was disastgrous.
In a lengthy tweetstorm posted yesterday evening, former US Foreign Disaster Assistance chief Jeremy Konyndyk went all-in on ripping the Trump administration:
This is the best tick-tock I've seen on White House mgmt of Puerto Rico response. And it is so, so, so damning. 1/ https://t.co/29Zoqf9E2s

— Jeremy Konyndyk (@JeremyKonyndyk) September 30, 2017
I've tried to be balanced re: Trump's handling of PR, incl in my piece today, b/c I know how hard this stuff is. 2/ https://t.co/rCBXmh5KfR

— Jeremy Konyndyk (@JeremyKonyndyk) September 30, 2017
But WaPo report tonight makes that impossible. Confirms worst suspicions. Clear that WH took their eye off the ball at the worst moment. 3/

— Jeremy Konyndyk (@JeremyKonyndyk) September 30, 2017
The 2-3 days immediately after a major event are critical; that's when you gauge damage in order to calibrate response. 4/

— Jeremy Konyndyk (@JeremyKonyndyk) September 30, 2017
During that critical window, rather than shaping response, POTUS was at golf club. Even held work mtgs; but not on PR. 5/ pic.twitter.com/RaUr5UMKJR

— Jeremy Konyndyk (@JeremyKonyndyk) September 30, 2017
Senior admin officials didn't visit PR to assess situation first-hand until 5 days post storm. Inexcusable. 6/ pic.twitter.com/SR6OfI8kFh

— Jeremy Konyndyk (@JeremyKonyndyk) September 30, 2017
Tellingly, what set Trump off and spurred his attention was not briefings – it was bad tv coverage. 7/ pic.twitter.com/WYkkb3Ekrg

— Jeremy Konyndyk (@JeremyKonyndyk) September 30, 2017
He didn't hold a high level meeting on the storm response until Tuesday – SIX DAYS after landfall. This is disaster mgmt malpractice. 8/

— Jeremy Konyndyk (@JeremyKonyndyk) September 30, 2017
And it has become clearer and clearer that response hasn't had the resources and people it needs – as DoD is now admitting. pic.twitter.com/23Llq6Wyzc

— Jeremy Konyndyk (@JeremyKonyndyk) September 30, 2017
Why do I call this malpractice? Because they had all the tools they needed to see this for what it was; if only they'd paid attention. 10/

— Jeremy Konyndyk (@JeremyKonyndyk) September 30, 2017
Storm played out exactly as forecast. Was clear it would be devastating, and it was. And then….the President left things on autopilot. 11/

— Jeremy Konyndyk (@JeremyKonyndyk) September 30, 2017
And that has had real, tangible, harmful consequences for the speed and effectiveness of the response. 12/

— Jeremy Konyndyk (@JeremyKonyndyk) September 30, 2017
It makes me so mad I could spit. 13/

— Jeremy Konyndyk (@JeremyKonyndyk) September 30, 2017
[image via screengrab]
—
Follow Justin Baragona on Twitter: @justinbaragona
Have a tip we should know? [email protected]