Obsessed Much? WaPo Now Up To 10 Different Post-Mortems of Megyn Kelly Fox Special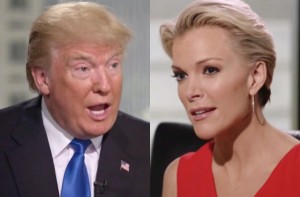 When a big television event occurs — the kind that don't come along very often — the standard treatment it gets is usually the following:
Preview.
Review.
Fin.
And in the case of this space as it pertains to the Megyn Kelly-Donald Trump Fox special, that's all that interview got. Preview. Review. Move on to other stuff. But in the Washington Post it's not quite that simple. Instead, here's a review of the treatment it has given the Kelly-Trump sit-down just from a review perspective alone.
May 17, Erik Wemple: Megyn Kelly's bankrupt interview with Donald Trump
And because one review that day wasn't enough…
May 17, Hank Stuever:
Megyn Kelly's awkward prime-time debut was a little too focused on Megyn Kelly
Followed by not one, not two, but three more items the next day by three more members of the Post staff:
May 18, Tom Toles:
Megyn Kelly asked Trump the hard question that was all too easy
May 18, Callum Borchers:
Megyn Kelly no longer such a media darling after Barbara Walters-esque Trump interview
Alyssa Rosenberg, May 18:
Megyn Kelly's special wasn't even good entertainment journalism
Along with an Associated Press recap:
NCIS' farewell episode trumps Megyn Kelly's Trump interview
Whew. All of this is exhausting to even recount, let alone read.
So that's it, right? Six items in two days should do the trick…
Ummm…Not even close. Let's go to May 19th, which almost tied the single-day record (four) set on May 18th with three more Kelly-Trump retrospectives. One was by the aforementioned Wemple, who is a media writer and is therefore has jurisdiction here in recapping Kelly's reaction to the reaction. But the Post editors — not satisfied that only four others in the building had weighed in to this point, assigned two more writers to share their thoughts on the special as well.
Alexandra Petri, May 19:
Terrifying Trump Fairy Tales
Steven Petrow, May 19:
Laverne Cox: The transgender person in your living room

Erik Wemple, May 19:
Fox News host Megyn Kelly lashes back at critics, weakly
And one more the next day (Fix Team, May 20)… because really, what's any interview review without a song parody?
Add it all up and here's your scorecard:
One Megyn Kelly special generated the following response from the Washington Post:
Ten items covering it in various forms.
Seven different bylines weighing in.
One cartoon.
One song parody.
No word on that partridge in the pear tree…
And remember, this is the paper that once brought down Nixon and has won 47 Pulitzers.
Nobody is saying don't review the Kelly-Trump interview. Nobody is saying don't criticize it if that's your opinion. But nine items by seven Post writers over four days? That's textbook overkill to the point of obsession…
In the end, those in the media who loathe Donald Trump saw Megyn Kelly as its savior to throw the candidate way off his game… even to the point of him becoming a Stage-5 Clinger of her on Twitter. If anyone was going to stop the Trump train — the same train that just erased an 11-point deficit in the latest Washington Post-ABC poll and has taken the lead over Hillary Clinton in the RCP average overall — it was supposed to be Kelly. But outside of knee-capping the guy and/or getting him to melt down into admitting he ordered the Code Red that killed Santiago, nobody was going to be satisfied with the way it turned out… nor forgive the host for trying to do a different kind of interview than the hundreds of others before it in this election cycle.
A hyped television event deserves attention and reflection afterward. But to the ninth degree?
Surely, surely the Post has better things for its writers — outside of the one who covers this stuff — to do.
— —
Follow Joe Concha on Twitter @JoeConchaTV
This is an opinion piece. The views expressed in this article are those of just the author.