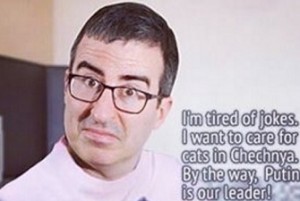 A media spat has developed that could be a taste of things to come depending on how our own presidential election turns out. On Sunday's edition of HBO's Last Week Tonight, host John Oliver did an extended bit slamming Republic of Chechnya Head Ramzan Kadyrov over human rights abuses and an eccentric love of Vladimir Putin that culminated in a social media prank at Kadyrov's expense. On Monday, Kadyrov hit back at Oliver via Instagram and Google Translate.
It all began with Sunday night's segment on Kadyrov, which mocked the Chechen leader for, among other things, his fondness for Putin t-shirts, his habit of overreacting when he loses things, and the actual cat he lost. The bit ended with Oliver instructing his audience to jam Kadyrov's timeline with messages about the lost cat, as well as photos of things that might or might not be the cat:
Some of the responses were inspired:
i think he may have your cat. #FindKadyrovsCat @RKadyrov @LastWeekTonight @iamjohnoliver pic.twitter.com/0E9XeytzWm

— sunia (@suniamian) May 23, 2016
On Monday, Kadyrov responded, in what can loosely be described as English, with an Instagram message and a photoshop of Oliver that essentially said "I know you are, but what am I?"

Knowing Oliver, the prank won't stop there. Watch this space.
Have a tip we should know? tips@mediaite.com