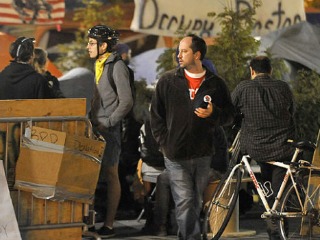 The folks at Occupy Boston found themselves in need of some advice. How does one, they wondered, protest outdoors all throughout the brutal winter months without doing things like dying? For help with this, they turned to the experts: Boston's homeless population.
According the BostonHerald.com, homeless Bostonians offered useful tips like "stuff your clothes with hay and straw." Which is good advice indeed because, you know, what's a protest without many bales of hay?
RELATED: MTV's The Real World Is Looking For Some Sexy, Young Occupy Wall Street-ers To Get Real
Boston Fire Department spokesman Steve MacDonald also offered some good advice: "Please do not burn the city down, perhaps by using kerosene lamps."
"Our concern is always the big picture: No matter where you live, you don't do things to heat your home, heat your space, heat your garage against common sense," he said.
The city has said that it will not forcibly remove the protesters unless they prove a danger to others, but nonetheless advises them not to remain outdoors once the temperatures drop and their collective health is potentially compromised.
Now, whether your reaction to all this was "I cannot believe these fools are leaving their comfortable homes while people without homes are freezing outdoors involuntarily" or "Good for them! I'm glad they're so committed to their cause" or "Oh Jesus CHRIST, not another Occupy Whatever story! I'd rather read about Lindsay Lohan's alien makeup at this point" we think you'll agree that these protesters, for the most part, mean serious business and don't seem to be going anywhere at this point — Jack Frost be damned. Or, you know. Will they? Once the temperature drops, will the protests begin to dismantle?
h/t BostonHerald.com, image via CBSNews.com
Have a tip we should know? tips@mediaite.com