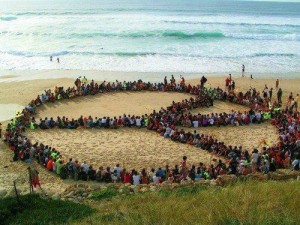 Although Occupy Wall Street gets most of the attention, the movement to protest the divide between the rich and poor is slowly moving into smaller cities across the country. Grand Forks, Scranton, Roanoke, and a host of other cities now have rallies, protests, and even makeshift camps. Not sure if your city has one? Just Google the word "Occupy" next to your city's name. Chances are that something is brewing in your downtown.
Nancy Hennen started the Occupy North Dakota Facebook page. According to the Grand Forks Herald, she quickly got 900 likes and discovered that people were itching to bring it past cyberspace and onto the streets. She also realized that there was a hankering for more localization, so she established Facebook "Occupy" pages for Devils Lake, Wahpeton, Bismarck-Mandan and Grand Forks-East Grand Forks. At the first organizational meeting for Occupy Grand Forks-East Grand Forks, which took place two weekends ago, 17 people showed up. Meanwhile, in South North Dakota on Saturday, about 150 protesters rallied downtown as part of an Occupy Fargo-Moorhead demonstration.
Occupy Topeka protesters will meet every morning at 11:00 to peacefully demonstrate. Their Twitter page has 60 followers. A last-minute Occupy Akron event had about 20 protesters earlier last week, but a larger Occupy Canton protest pulled in 150 on Saturday, while Occupy Youngstown's rally attracted about 300. Matthew Eckhart, who was at the Akron event, explained to Ohio News Now why the smaller movements are gaining traction. "Since a lot of us are too poor to move on to bigger areas like Wall Street… we are going to gather in smaller areas."
The movement has even reached the Adirondacks, in New York's North Country, as Occupy Saranac Lake's Facebook group rallied approximately 50 people to their event this weekend. In Roanoke — the site of America's first colony — another 50 people gathered as cars drove by and honked. Organizer Rafael Gonzalez told The Roanoke Times that he'd like to see the group's ranks expand. "The Tea Party is welcome, the 53 percenters are welcome," he said. "The 1 percent is welcome." Occupy Pensacola's protest managed 300 protesters, with police deeming the event "large, but very peaceful." And Occupy Lubbock boasts about 12 people camping out every night.
As for the coolest of the movements? Occupy Hawaii had probably the greatest image of any group so far, with its group of protesters forming a giant peace sign on the beach. About 250 protesters in Waikiki marched to a statue of Gandhi at the Honolulu Zoo on Saturday. But Gordon Y.K. Pang of the Honolulu Star Advertiser says that a moment of irony occurred at their rally: as the hundreds marched through Waikiki, billionaire Genshiro Kawamoto walked right past them, unnoticed, as he walked to his hotel.
Have a tip we should know? tips@mediaite.com