Ohio Gun Group Raising Money To Buy George Zimmerman A New Gun, Send Message To Eric Holder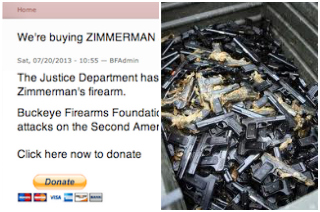 George Zimmerman may not get his gun back, but an Ohio group's got him covered: they're going to buy Zimmerman a new one.
The Buckeye Firearms Foundation, a 501(c)(3) non-profit that advocates for the Second Amendment, is soliciting donations to replace Zimmerman's weapon and accessories following his acquittal for the shooting of Trayvon Martin. The gun was supposed to have been returned to him following the conclusion of the trial, but the potential for further charges to be filed by the Justice Department means the weapon used in the shooting remains in evidence.
Writing on its website, the BFF called the government's retention of Zimmerman's possessions an "unacceptable abuse of power," and accused Attorney General Eric Holder of exploiting the case to further his gun control agenda:
The threats of federal charges on civil rights grounds is little more than blatant pandering for political gain.

Moreover, based on statements he and others have made recently, Holder hopes to use this as the first step toward renewing this administration's attack on gun rights.

To be fair to all concerned, we have remained silent during the Zimmerman trial. We allowed the evidence to unfold and the justice system to run its course. Now the jury has spoken and that should be the end of the matter.

George Zimmerman has every right to get his property back.

And if Eric Holder chooses to deny Mr. Zimmerman that right, Buckeye Firearms Foundation will remedy the matter by purchasing a NEW FIREARM for him, including a holster, flashlight, and any other gear he wants.
The Buckeye Firearms Foundation most recent project was to give 144 local schoolteachers firearms training.
Read the full article HERE.
[h/t Think Progress]
—
>> Follow Evan McMurry (@evanmcmurry) on Twitter
Have a tip we should know? tips@mediaite.com