Oil Companies Spin Billions In Profits While Charging More For Gas: It's Good For America!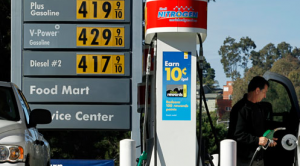 As the oil companies prepare to report massive first quarter profits this week–expected to be in the billions–the oil industry's largest trade group got out ahead of the profit reports with some pre-emptive spin: look, America, we may be making billions, but don't be mad. Six bucks a gallon's good for you! According to a report in the Houston Chronicle, the American Petroleum Institute, "the oil industry's largest trade group on Monday rolled out a study revealing that those gains translate to big benefits for teachers, firefighters and other state pensioners."
The report implies that plans to cut tax deductions for oil companies amid record profits doesn't make sense–and could cause even worse misery for families who drive:
Kyle Isakower, the group's vice president of regulatory and economic policy, said API would "educate Americans about the study's findings" and will "provide this information to policymakers."
The message, Isakower said, is that "everyday Americans," including teachers at public schools, firefighters and state government workers, benefit from oil and gas industry profits – and stand to lose from federal policies that hurt the companies' bottom lines.

"As proposals are raised that would hurt the economic viability of the oil and gas industry in the United States, it is important for policymakers to understand who it is that gets hurt," Isakower said.
The White House, meanwhile, says the big oil companies simply don't need tax breaks–and their profits prove it. "When Americans are going every day of the week to their local gas stations and filling up and seeing a tank of gas cost $60, $70, $80 or more, I think they would be appalled to learn that major oil companies … will be announcing record profits this week," said White House press secretary Jay Carney.
Have a tip we should know? tips@mediaite.com