Oil-Rich Middle Easterners Court Democrats As Domestic Energy Production Explodes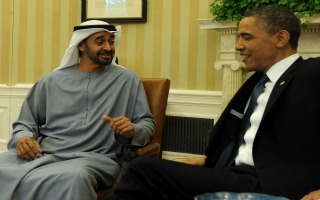 It is hard to understate the political upheavals that have occurred in the period elapsing between the 2008 and 2012 elections. The Democratic party regained the public trust on matters of international security and foreign affairs for the first time since the Vietnam War. Republicans are now making a concerted effort to become the party entrusted with more public faith on the issue of entitlement reform. Now, following a technological revolution yielding to burst of domestic energy production, wealthy oil producers in the Middle East have become a pro-Democratic constituency. Who'd have thunk?
The Promised Land, an upcoming film starting Matt Damon and Frances McDormand, is the story of a morally conflicted energy worker who comes to a small American town to extract the local energy supply via hydraulic fracturing ("fracking"). Damon, the protagonist, confronts an ethical conundrum when he is forced to choose between the greedy and villainous energy producers who employ him and a local environmental activist who stole his heart. Spoiler alert: the environmental activist wins.
According to an investigation by the Heritage Foundation, however, it turns out that a portion of the financing for the film comes from the oil-rich royal family of the United Arab Emirates. The film was produced in association with Image Media Abu Dhabi, a company owned by the UAE government.
The benefits for oil exporters abroad to increase the politically-imposed restrictions on "fracking" technology are self-evident. Employing Hollywood to get that message across is, however, a game-changing and previously unavailable strategy for Middle Eastern oil exporters.
Many will recall the 2004 presidential campaign and the attacks on President George W. Bush for his close relationship with wealthy Saudis. "Never before has an American president been so closely tied to a foreign power that harbors and supports our country's mortal enemies," said Craig Unger, author of the 2004 book House of Bush, House of Saud.
Today, however, it seems the roles are in the process of reversing themselves as progressive Democrats align themselves with groups opposed to new energy exploitation technologies like "fracking" and horizontal drilling. Perhaps it will not be long before the House of Saud is more closely aligned with the House of Obama.
> >Follow Noah Rothman (@Noah_C_Rothman) on Twitter
Have a tip we should know? tips@mediaite.com