On Obamacare Pledge, Jay Carney Tells Fox News' Ed Henry 'Communications Are Challenging'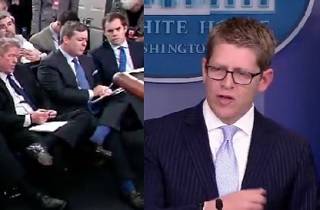 President Obama's years of telling Americans that the Affordable Care Act would not force them to change insurance plans continued to be the focus at Tuesday's White House daily briefing, but Fox News' Ed Henry appears to have wedged his foot into a new fissure in the administration's narrative. Henry dug out a statement from the President's Sept. 26 speech at Prince George's Community College in Maryland, and got Press Secretary Jay Carney to concede that "Communications are challenging."
So far, the administration has responded to critics by pointing out that the Affordable Care Act contains a grandfather clause that allows insurers significant leeway in allowing consumers to keep pre-ACA plans, but Henry found a statement by the President that didn't seem to fit that explanation, or at the very least, was insufficiently narrow.
"Obviously, the words the President said 3 years ago have been picked over many times," Henry said, "but what about what is it just over a month ago, September 26 in Maryland, he had an event right before the actual vote. One of the things he said was quote 'If you already have health care, you don't have to do anything.' You can at least say that was not true, right?"
"I, as I said last week, can accept that, you know, communications are challenging here," Carney replied. "The President, look, you have to remember that the Affordable Care Act promises…"
"That's not true," Henry interrupted. "It's not true."
After another interruption from Henry, Carney explained that "The President was referring to the broader promise of the Affordable Care Act, that if you're on Medicare or Medicaid, if you, like probably most people in this room, have insurance through your employer, if you're a veteran and you get coverage through the VA, you don't have to do anything."
However, the passage that Henry was referring to specifically includes people on the individual insurance market:
Now, let's start with the fact that even before the Affordable Care Act fully takes effect, about 85 percent of Americans already have health insurance -– either through their job, or through Medicare, or through the individual market. So if you're one of these folks, it's reasonable that you might worry whether health care reform is going to create changes that are a problem for you — especially when you're bombarded with all sorts of fear-mongering.

So the first thing you need to know is this: If you already have health care, you don't have to do anything.
Carney continued, "Now, and the proof of that obviously is, if you're uninsured, you know have available to you options to purchase insurance that you never had before. And if you don't qualify for Medicaid, but you might qualify for subsidy, you have to look at options and make your choices. But look, our focus is on implementing the law and getting these benefits to the American people."
Elsewhere in the briefing, Carney did point to the uniformly poor reporting on those receiving the cancellation letters, raising questions as to whether anyone with accurate, complete information about their options would still prefer their old coverage, but conceded to Henry that "part of that focus and the consternation that's been caused, by the letters that have gone out, is due to the failures of the website that have meant it's harder for these individuals to find out, and be reassured by, the fact that they have options for indisputably better coverage, and in many cases, most cases, coverage that is better, for the same cost or less."
Here's the clip, from C-SPAN 2:
Have a tip we should know? [email protected]