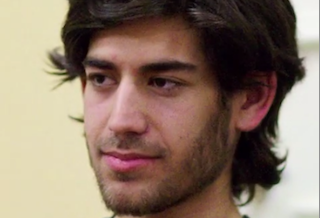 It has been exactly one year since Aaron Swartz, internet pioneer and one of the original founders of Reddit, committed suicide at the age of 26 in New York City. To mark the anniversary, the first clip for a documentary about Swartz called "The Internet's Own Boy" was released. And it contains some prescient comments about NSA surveillance, which has dominated the news over the last year due to Edward Snowden's leaks.
"It is shocking to think that the accountability is so lax that they don't even have sort of basic statistics about how big the spying program is," Swartz says of the NSA in the documentary clip. "If the answer is, 'Oh, we're spying on so many people we can't possibly even count them,' then that's an awful lot of people." He adds that the fact that the agency can't put any number on the amount of people their surveillance reaches is "scary."
The clip also covers Swartz's involvement in the SOPA blackout protest, which occurred in January of 2012. A group of internet activists have deemed February 11th, 2014 "The Day We Fight Back", which will feature online protest against mass surveillance in Swartz's honor.
At the time of his death, Swartz was facing up to 50 years in prison for downloading academic journal articles from MIT's servers. As the Washington Post's Andrea Peterson pointed out today, the Computer Fraud and Abuse Act, which dates back to 1986 and it seen as outdated by many of Swartz's allies, remains unchanged one year later.
As a tribute of sorts to Swartz, the group Anonymous hacked MIT's website late last night, posting the message below to promote next month's protest:

Watch the documentary clip below, via Luminant Media:
[photo via screengrab]
— —
>> Follow Matt Wilstein (@TheMattWilstein) on Twitter
Have a tip we should know? tips@mediaite.com