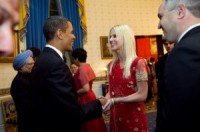 Oof. Welcome to the new decade where apparently we are on our own when it comes to security. Of course you remember, last month when the Salahis created quite the media stir after they slipped the Secret Service "crashed" a White House state dinner. Even at the time there was a serious element to all that overdone, splashy headline coverage, because of course while the Salahis didn't appear terribly threatening we were still talking about the President of the United States.
Somehow post the Christmas/Underwear bomber, yesterday's shutdown of Newark, and the general sense that not only do people still wish us harm, but we are not prepared to deal with it, the Salahis are less funny. So the news that there was likely a third party crasher, which might have made for a fun (ish) follow-up headline just a short month or so ago, is actually not that funny. Or at all funny.
Newsmax first reported this morning that there may have been a third crasher:
At the last minute, someone from the Indian diplomatic delegation invited a man to attend the White House event on Nov. 24 without the knowledge or consent of the White House. As with the Salahis, the Secret Service ignored the fact that the man was not on the guest list and failed to conduct a background check on him.
The Secret Service confirmed later today there was indeed a third uninvited guest:
"It appears at this point that the subject traveled from a local hotel, where the official Indian delegation was staying, and arrived at the dinner with the group, which was under the responsibility of the Department of State. This individual went through all required security measures along with the rest of the official delegation at the hotel, and boarded a bus/van with the delegation guests en route to the White House.

"At present, there is nothing to indicate that this individual went through the receiving line or had contact with the president or first lady."
Sigh. At this rate there'll be full body scans at all future White House functions.
Have a tip we should know? [email protected]