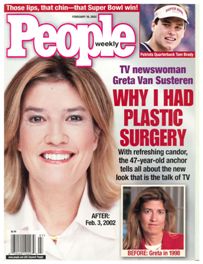 Fox News host Greta Van Susteren reflects on her 2002 move from CNN to Fox News in a blog post on Gretawire.
The point of the post, titled "Strangest Thing," is to highlight how strange Van Susteren felt the over-coverage of the network switch was at the time – when it was mainly focused on her plastic surgery in between.
Van Susteren left CNN in early 2002 and began anchoring her FNC show On The Record in February. But before she joined Fox, she got an eyelift. Here's how she characterized it:
I switched jobs – from CNN to Fox (that is not strange, people change jobs all the time.) I unexpectedly had a month between jobs and so I had plastic surgery on the area around my eyes (that is not strange – thousands and thousands have it done every year.) I suddenly had a month to kill – so I just decided to do it because I had a doctor who could do it. I made no secret of it (I suppose that is strange since, for reasons I still can't understand, most people hide it….my thought: if you spent money on changing something, would you not want it to be noticeable? why the big secret? you are not paying for it to be the same!
The reaction was huge and, including a People magazine cover story (which we've been told was part of an extensive PR strategy for the show's launch). The article took on the television news business as a whole, but also focused on Greta specifically, like this quote from veteran TV writer Michele Greppi: "FOX hired a tomboy, and they got a babe."
Van Susteren has a theory why it became such a big story. "In the 4 months leading up to January, the media had been consumed with the most devastating, frightening and tragic news – 9/11, anthrax and war – that my insignificant plastic surgery was a nice news oasis for everyone…a topic where no one died and it exposed the secret: yes, lots in the media have plastic surgery," she writes.
So did 9/11 make Greta's eyelids a bigger story? Maybe. But looking back now, as the show continues to have enjoy enormous ratings success at the end of FNC's prime time line-up, the plastic surgery seems more of a moot point. What made it the biggest story is actually how open Van Susteren was, and continues to be, about it. In that way, she has continued the same level of transparency on Gretawire.
—–
» Follow Steve Krakauer on Twitter
Have a tip we should know? tips@mediaite.com