Oops: That 'Federal Investigation' of Christie's Sandy Recovery Ads Was Just a Routine HUD Audit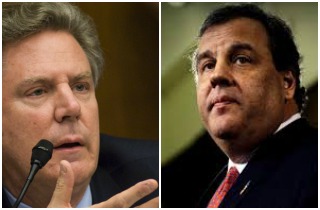 At the height of the media's frenzied coverage of the scandal involving New Jersey Gov. Chris Christie's aides closing two lanes in the George Washington Bridge this week came another bombshell, one that threatened to bury the likely 2016 contender. Christie was, the press reported, facing a "federal investigation" into his appearance in ads that used federal funds to draw tourism to areas struck by Hurricane Sandy.

Citing Rep. Frank Pallone (D-NJ) as a source, CNN's Chris Frates said that the federal government viewed Christie's appearances in those ads, as well as the bidding process for that contract, to have been suspicious. Critics noted that President Barack Obama's administration had approved of those ads, but the "federal investigation" claim went uncorrected.
"This was money that could have directly been used for Sandy recovery," Pallone told CNN on Monday. "And, as you know, many of my constituents still haven't gotten the money that is owed them to rebuild their homes or raise their homes or to help."
On Tuesday, however, the Department of Housing and Urban Development issued a press release contradicting Pallone's allegation and saying that the "investigation" was merely a routine oversight audit.
-RELATED: Christie Under Federal Investigation for Alleged Misuse of Hurricane Sandy Relief Funds
"Audits of Federal expenditures of the U.S. Department of Housing and Urban Development, including disaster-related activities, are something that this office does routinely," said HUD inspector general, David Montoya in a statement.
"An audit was initiated in September 2013 to examine whether the State administered its Tourism Marketing Program in accordance with applicable departmental and Federal requirements," he continued. "This is an audit and not an investigation of the procurement process."
This is the inevitable and embarrassing outcome when you use a partisan Democratic House member, one who described his Republican colleagues' probe into the disastrous Affordable Care Act website as a "monkey court" no less, as a trusted source.
[h/t NRO]
[Photo via AP/CBS News]
— —
> >Follow Noah Rothman (@NoahCRothman) on Twitter
Have a tip we should know? [email protected]