Open Mic Allegedly Catches Nicolas Sarkozy Calling Netanyahu A Liar, Obama Commiserating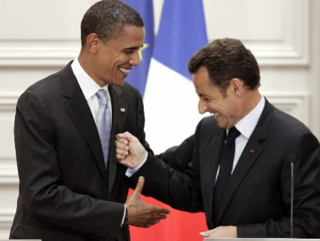 An open mic left on at the G20 conference last week allegedly seems to have caught some angry remarks from French President Nicolas Sarkozy about Israeli leader Benjamin Netanyahu, the French website Arrêt Sur Images reported today. After speaking, the leaders did not notice reporters could still hear them in headphones, a time during which Sarkozy turned to President Barack Obama and lamented of Netanyahu, "I cannot stand him. He is a liar."
While the original Arrêt Sur Images report in French is here, YNet News translates the most damning complaints from the French premier:
The conversation apparently began with President Obama criticizing Sarkozy for not having warned him that France would be voting in favor of the Palestinian membership bid in UNESCO despite Washington's strong objection to the move.

The conversation then drifted to Netanyahu, at which time Sarkozy declared: "I cannot stand him. He is a liar." According to the report, Obama replied: "You're fed up with him, but I have to deal with him every day!"

The remark was naturally meant to be said in confidence, but the two leaders' microphones were accidently [sic] left on, making the would-be private comment embarrassingly public.
YNet notes journalists were apparently told they were not permitted to report on comments said while the world leaders didn't know they were being listened to and were forced to sign non-disclosure agreements– which would explain why the audio isn't available, though not necessarily why the only publication to have the story would be Arrêt Sur Images. The lack of coverage comes despite, apparently, reporters being able to hear the conversations because they were "still in possession of headsets provided by the Elysée for the sake of simultaneous translation." Many are reported not to have even noticed the mics were still on themselves.
Have a tip we should know? tips@mediaite.com