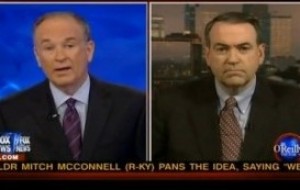 While serving as Arkansas governor, current Fox News Host Mike Huckabee commuted the sentence of Maurice Clemmons, the man who had been held as the primary suspect in the killing four police officers until his shooting this morning. The parallels to Willie Horton, and the similar effect on Huckabee's plans to run for president have not been lost on many.
But not so fast — fellow Fox Host Bill O'Reilly had Huckabee on as guest last night, and quickly absolved him of any wrong doing, saying "Well, it's not your fault, Governor."
O'Reilly has historically been very tough on both judges and elected officials who are "soft on crime," those who he feels provide parole or pardon too early in a criminal's penance. He has frequently focused on "Jessica's Law," a Florida Law passed in 2005 designed to punish sex offenders and reduce their ability to re-offend.
The suspect in the Washington State Police shooting had just this year been charged for five felonies, including the rape of a 12 year-old girl, but was allowed out of jail on $15,000 bail. This was enough for O'Reilly to shift focus away from the former Arkansas governor, effectively giving Huckabee a pass for the commutation of Clemmon's sentence.
O'Reilly concluded the interview by saying "I mean, look, you've got 1,200 of these cases a year. You gotta look at them. I'm not saying it's your fault. I don't think anyone watching thinks it's your fault." Maybe his plans to run for president haven not been damaged.
Transcript and video below:
O'REILLY: Thanks for being a stand-up guy, Governor. A lot of people want an explanation. This is a bad hombre, and you let him out. Why?

HUCKABEE: Well, Bill, first of all — the tragedy of this — if I could have known 9 years ago this guy was capable of something of this magnitude, obviously I would have never granted the commutation.

It's sickening. The two people I value most in this country are soldiers and police officers, because they're the only things standing between our freedom and total anarchy. And in the case of this particular individual — he was sentenced to 108 years for two crimes when he was 16. The post-prison transfer board — I'll be very brief about this, but to understand — they recommended to me as governor for his commutation, which didn't release him. It simply cut his sentence to 47 years. That would give him parole eligibility.

That was the commutation. I'm responsible for that. And it's not something I'm happy about, at this particular moment.

O'REILLY: Now did you study it…

HUCKABEE: Yes…

O'REILLY: I mean, look. Governors have a lot of this stuff. Did you study this guy? Did you spend a lot of time on it, or did you just take the advice of your advisers?

HUCKABEE: No, I looked at every case file, and I had about 1,200 of these a year. This is what people need to understand. 92% of the time, they were denied. But in this case, the judge in the case was also recommending, and the parole board,on a 5-0 vote, because at the age of 16, the sentence he got for the crimes he committed back in 1989 was excessive for anything else that.

O'REILLY: Okay he was a bad guy in prison, and the prosecutors told you. So they say "Hey, this is a hard-core guy. This isn't some kid who went wrong".

HUCKABEE: We didn't have any information from the prosecutors. We sent notices, which is the practice in Arkansas, to five different people: The Attorney General, the Secretary of State, the prosecutor, the judge, and law enforcement. The only official we have record of getting notification of from was the judge, who agreed with the recommendation of the parole board.

So that's what we acted upon. What I acted upon,I'm responsible for that, and you know, my heart is broken for four families tonight

O'REILLY: Well, it's not your fault, Governor. I mean, look, you've got 1,200 of these cases a year. You gotta look at them. I'm not saying it's your fault. I don't think anyone watching thinks it's your fault.

But the judges in Washington state, come on. I mean, this guy moves from your state, Arkansas, to Washington state and then he racks up 8 felony charges. Eight felonies!
Have a tip we should know? tips@mediaite.com
Colby Hall - Founding Editor