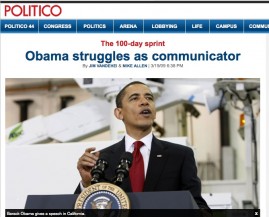 Now that the White House's war on Fox appears to have simmered down it looks like they may have found a new target for their frustration with media coverage: Politico. Sort of.
Yesterday, Politico's John Harris penned a much-read (it's been on Drudge for close to 24 hours now) piece titled "7 Stories Barack Obama Doesn't Want Told." A taste: The president thinks he's playing with monopoly money, he's too much like Spock, etc. Actually, the piece reads like an extended, slightly more reasonable version of a Maureen Dowd column. Either way the White House thought it was worth a response. Sort of.
Turns out the White House is just like the rest of us! They like to send quickly written, badly spelled, office emails to each other, and also apparently to the Atlantic's Marc Ambinder who got his hands on a internal email mocking Politico's list.
7 narratives politico is fighting in their efforts to get an interview with the President

1. They are more interested in readers than accuracy

2. Its okay to be wrong everyonce in a while, if your are the first to break the news

3. More interested in gossip than news

4. A spouter of the worst sort of insider conventional wisdom

5. Their analysis about obama has been wrong more than any one

6. Click … period

7. More obsessed with personality than policy
Actually, it's a pretty funny and sort of accurate list — number four in particular has been a point of criticism from many sides since Politico started developing into the power house it is today (beginning sometime in late 2007). The White House probably had so much fun passing around that someone clearly couldn't resist sharing.
It should be pointed out, that unlike Fox the White House actually maintains fairly good, though measured relations with Politico. Notes Ambinder:
The White House maintains good relationships with POLITICO reporters and has been known to try and agenda-set by dishing out a few tips to the publication [ahem, David Plouffe]. But make no mistake: many on the White House senior staff dislike POLITICO's brand of journalism, and they do not like the effect that POLITICO's metabolism has on the rest of the press corps, including this (i.e., my own) corner of it.
We shall see. Regardless, can only hope that if the tense relationship with Fox continues someone manages to inject a little bit of this sort of humor into it.
Related:
The White House Takes On POLITICO [The Atlantic]
7 stories Barack Obama doesn't want told [Politico]
Have a tip we should know? tips@mediaite.com