O'Reilly 'Admires' How His Friend Trump Was Able to 'Beat the Establishment'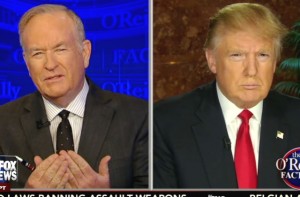 One common criticism of the mainstream media from conservative pundits is that they tend to be too chummy or sympathetic to the Democratic politicians they interview, which leads to that all-too-oft-mentioned liberal media bias.
But this election year has, to use a cliché, put the shoe on the other foot. Donald Trump may be friendly with people across the media, but that includes the conservative media and Fox News. Bill O'Reilly and Sean Hannity, for one, have been friendly with Trump for years before his political rise.
One moment cable news junkies might remember from the 2016 campaign was when O'Reilly told Trump, "I bought you so many vanilla milkshakes, you owe me… You owe me milkshakes."
O'Reilly opened up about his friendship with Trump in a new interview with AdWeek. He said from the outset that he thinks Trump will likely be remembered in 100 years alongside President Obama.
"You have to give him credit." O'Reilly said. "Like him or not. I don't like some of the things he does and says. But I admire the fact that he was able to beat the establishment and beat them badly."
As for his friendship with the man who could become America's next president, O'Reilly was fairly candid:
"It's built on sports. We're both sports fans and New York fans. I don't hang with Donald Trump. We go to some games together and once in a while, when he wasn't a politician, when he needed a favor or something, I would be happy to do it for him—if he had some kid who wanted to come and see the show."
O'Reilly has been maybe a bit too overly defensive of Trump sometimes, but in fairness, he has also criticized Trump to his face on multiple occasions.
[image via screengrab]
— —
Follow Josh Feldman on Twitter: @feldmaniac
Have a tip we should know? tips@mediaite.com
Josh Feldman - Senior Editor