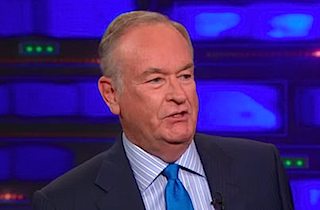 Over the past four weeks, Fox News host Bill O'Reilly's comments about reporting from a "combat zone" during the Falklands War, witnessing nuns being killed in El Salvador and hearing a friend of Lee Harvey Oswald shoot himself in the head have all come under heavy scrutiny for being at best exaggerations and at worst outright lies. Now, yet another one of O'Reilly's decades-old anecdotes is being called into question.
A new post from Media Matters, which has been even more ferocious in its coverage of O'Reilly's apparent lies as Mother Jones has, highlights comments made by the anchor in a 2006 Fox News Radio segment also about his time spent covering the civil war in El Salvador for CBS News in the early 1980s.
"First time I saw combat, all right, was in El Salvador," O'Reilly told a caller, going on to elaborate on a "firefight" he says he witnessed:
"While I was on that assignment, there was a firefight in a town called San Francisco Gotera, which were a big Salvadorian army base, a government army base there, and there were guerrillas all over the place. And it was — and when you see what happens when people start to shoot at each other, it is nothing like the movies. It's nothing like — it's just sheer panic. All right? People just shooting everywhere, running everywhere. Screaming, noise, chaos. All right?

And the people who keep their heads, win, and the people who lose their heads, die. Now, if you're in the middle of that as a civilian, you're gonna get hurt. All right? Now, all the journalists who were down in El Salvador, and subsequently in the Falklands War — I went there afterward — I mean, we were trained what to do. But even then, even then, I mean, I had cameramen who panicked and who were hurt. And, I mean, it is unbelievably intense.

And all of you war veterans listening know what I'm talking about here. That you were trained to do it. You're trained to be there, keep your composure under unbelievable stress. There isn't anything more stressful in the whole world than that. That's the most stressful condition you can ever be in, close-quarter combat."
Listen to the audio below, via Fox News Radio:
But as Media Matters' Ben Dimiero points out, the "firefight" was not mentioned by O'Reilly in his original reporting from El Salvador, nor in his 2001 book The No Spin Zone
, which covered that time in his life.
In his report for CBS, O'Reilly said, according to video dug up by The Nation, "these days, Salvadoran soldiers appear to be doing more singing than fighting, even here in the northeast, the heart of rebel country," adding that he saw "no signs of insurgent forces." In the book, the worst thing O'Reilly describes seeing was Salvadoran soldiers "hanging from hooks by their tied wrists… being whipped."
However, O'Reilly repeated his claims about the firefight as recently as last month, when he told radio host Hugh Hewitt, "I've been shot at a couple of times, once in Argentina. We were in a fort in San Francisco Gotera that took fire in El Salvador."
Faced with accusations of misleading his viewers, O'Reilly and his Fox News bosses have deflected the criticism by touting The O'Reilly Factor's ratings and generally suggesting that those questioning the veracity his past statements are just jealous.
Read the full report at mediamatters.org.
[h/t HuffPo]
[Photo via screengrab]
— —
>> Follow Matt Wilstein (@TheMattWilstein) on Twitter
Have a tip we should know? tips@mediaite.com