Organizer of July 4th Boat Parade in New Orleans Cancels Event Over Trump Presidency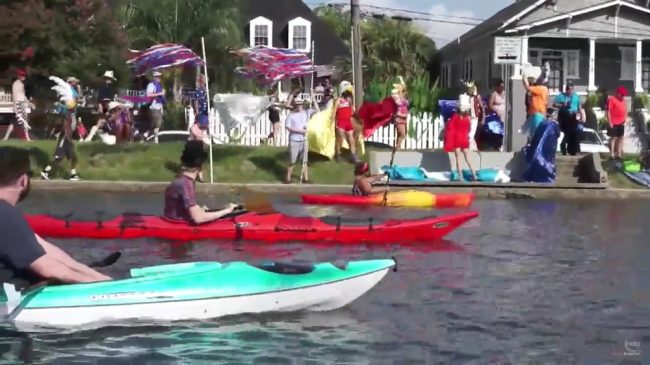 The annual July 4th Flotilla in New Orleans was canceled after its founder concluded that "her heart is just not in it this year" in the wake of the election of President Donald Trump.
The Times-Picayune detailed the cancellation in a Tuesday article. Katrina Brees, an artist who founded the Flotilla, "customarily leads a ceremonial procession around the edge of Bayou St. John wearing an American-flag motif dress and carrying a triumphant sword," but revealed to the newspaper that "the symbolism seems off-base since the election of President Donald Trump."
"When I think about wearing my flag dress and waving flags; I don't know what it means this year," Brees said. "There are a lot of questions about our government."
The Times-Picayune report noted that "the Trump-targeted lampooning she [Brees] saw in Mardi Gras parades this year didn't brighten her spirits."
Brees explained that "even the [Mardi Gras] humor…kind of upset me." She added, "As soon as the election happened, I was thinking about the (July 4th) parade and I'm not sure how bohemia fits into patriotism anymore."
However, a Sunday report from The New Orleans Advocate gave an alternate explanation for the Flotilla's cancellation.
"Organizers of the Krewe of Kolossos 4th of July Boat Regatta on Bayou St. John have decided against holding the popular boat parade this July 4 because of increasingly large crowds and the mess they often leave behind them."
The Advocate's write-up quoted from Brees, who didn't mention President Trump at all, but only how "people were griping at me when I was out there cleaning up other's people's trash."
[image via screengrab]
Have a tip we should know? tips@mediaite.com