Oscars Red Carpet 2010! Styleite Ranks The Hits, The Misses, And Everything In Between

While our counterparts at Mediaite have been dutifully liveblogging every last moment of this year's 82nd Annual Academy Awards, we at Styleite gave up before the show even started; we were in it for the red carpet, clearly.
Thankfully, this year's pre-show fashion fest served up no shortage of sartorial sins, rewarding risks, and, predictably, the usual snoozefest offenders.
The Hits: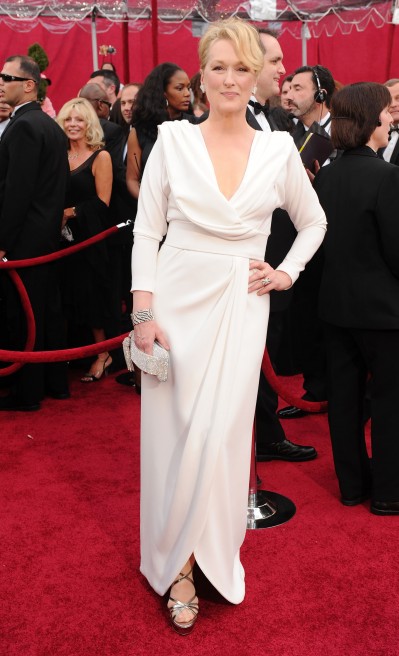 Meryl Streep won tonight's best dressed award, hands down. While our first guess pegged her dress as Valentino, kudos goes to Project Runway alum Chris March for designing such a standout, knockout, all-around stunning dress. Meryl Streep outshone Oscar himself. Period.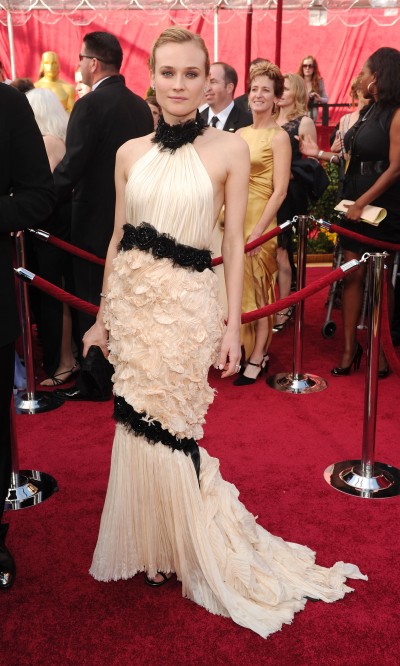 Diane Kruger's cream and black feathered gown was undeniably, iconically, and gorgeously Chanel. Featuring a halter neck, no small amount of Chanel camelias, and a bias cut that would make most actresses run for the hills, Kruger's dress was a elegant and inspired choice for the red carpet.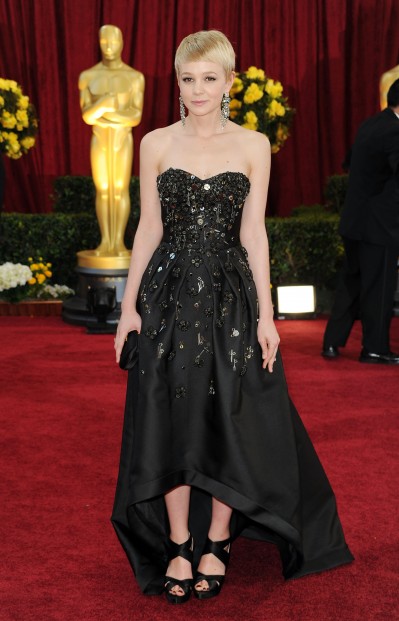 Carey Mulligan looked whimsically chic for her first Academy Awards red carpet appearance in a black bedazzled Prada gown.  While many consider black to be a bit drab for the Oscars, Miuccia Prada's design looked perfect against her pale skin and platinum blonde boyish haircut.  Accented perfectly with impeccably sized chandelier earrings by Fred Leighton, Mulligan's dress most definitely earned the actress a place among Hollywood's "Best Dressed."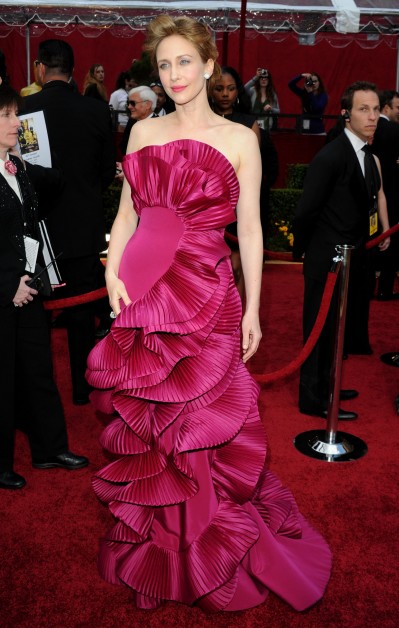 Vera Farmiga's fucshia Marchesa gown was reminiscent of Diane Kruger's Christian Lacroix Golden Globe's dress.  The ruffled fanning that spanned from the upper bodice down to the bottom was a unique and perfectly executed accent, which was refreshing considering the red carpet's surprising lack of originality tonight.  The color choice was daring and divine and the gown fit her body like a glove.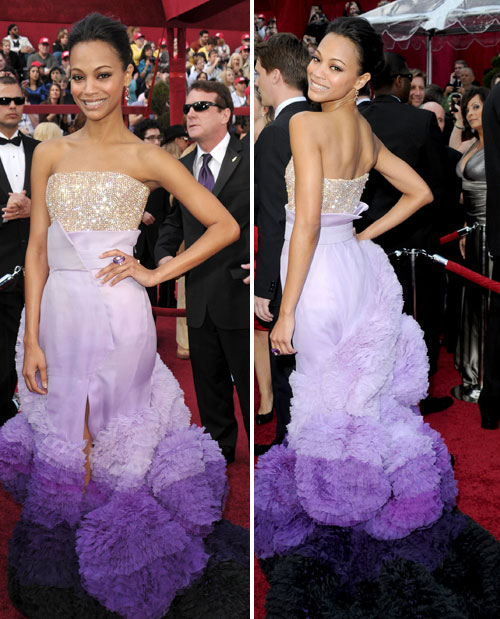 Zoe Saldana's Givenchy gown sets a prime example for what red carpet fashion could and should be. Exquisitely styled and arguably the evening's most creative, Zoe's dress was purple, ruched, ruffled, and huge. Also: it had a sparkly top. Good for her for pulling it off, but more importantly, for having the courage to wear it in the first place.

Have a tip we should know? tips@mediaite.com