OSU Victim Won't Meet With Trump Because He's a 'Little Put Off' by His Reaction to Attack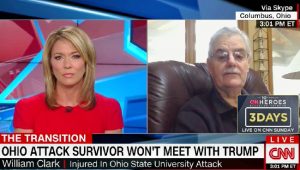 Part of President-elect Donald Trump's itinerary today includes a stop in Columbus, Ohio, to speak to and comfort the victims of the apparent terror attack at Ohio State University last month. Trump will also visit with first responders and then address the national media after the meetings.
At least one of those injured in the attack — the only fatality was that of the attacker by police — has declined to meet with Trump.
Professor William Clark appeared on CNN today to explain why he's skipping out on speaking with the incoming POTUS. After telling host Brooke Baldwin that his condition is improving "slowly day by day" and that he's "getting better," he provided his reasons for not talking to Trump.
"First of all, from my healing standpoint I didn't feel it was a necessary step for me," Clark stated. "I'm older than most of the other victims and they had a more traumatic experience being chased by a guy with a knife than I did."
"The other is I was frankly a little put off by Mr. Trump's initial reaction to the attack where he got on Twitter and quickly blamed immigration policies for allowing this to happen," he continued. "I've been a professor for 35 years and I know these issues when students do these things they're often more complex than that."
Clark had previously told the Washington Post that he was taking a wait and see approach to attacker Abdul Razak Ali Artan's motives for the attack.
"I wasn't going to jump in and say he did this because he was a jihadist terrorist," Clark said. "There may be a lot more to it than that. . . . What else might have sent him over the edge for him to decide to do it? I don't think we know yet."
Watch the interview above, via CNN.
[image via screengrab]
–
Follow Justin Baragona on Twitter: @justinbaragona
Have a tip we should know? tips@mediaite.com