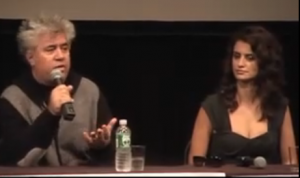 Who: Pedro Almodovar and Penelope Cruz, interviewed by Lynn Hirschberg What: TimesTalks' "A Conversation with Pedro Almodovar and Penelope Cruz" Where: The Times Center When October 7, 2009 Thumbs: Up
The upcoming film Broken Embraces boasts the fourth time that director Pedro Almodovar has cast Penelope Cruz in a movie.  Their relationship began when Cruz was just 17 and decided to become an actress after seeing some of Almodovar's films. She began to sneak into night clubs where Almodovar was rumored to spend time. Over time, she went from idolizing him to being the director's first choice for lead.
Most of the audience was previously familiar with Almodovar, despite the fact that he has never made an American film. Moderator Lynn Hirschberg brought a wealth of knowledge about the director's films, calling him something she worships. We were impressed when she cited notes she had from a 2004 interview with Almodovar, as much a sign of cinematic fandom as journalistic honesty.
Hirschberg had Almodavor speak about the range of actions and emotions that he asks of his lead actresses. This is unlike American movies where these characters tend to be one-dimensional, the panel said. For Almodavor, an article of clothing, a color choice, or a sudden expression by one of the characters can carry the weight of the scene.
They showed some scenes from some of Almodovar's movies to reinforce this point. One of the films, Volver, deals with serious issues related to death yet features some humorous scenes. Almodovar believes that this is in keeping with human tendencies, as we try to protect ourselves from the pain of dealing with death. Through and through, he seeks to make his movies come across as wholly believable.
What They Said
"The actors have more information than the characters do."
– Pedro Almodovar stresses the importance for actors to entirely invest themselves in the roles they play
"I have experienced things in my life that because of him my life is richer."
– Penelope Cruz says that through researching roles for Almodovar's films she's met pockets of people who have forever impacted her
"If there's a character anywhere between 12 and 45, I always think of Penelope."
– Pedro Almodovar would likely have cast Penelope Cruz for Penelope (link to http://www.imdb.com/title/tt0472160/).
"What the director didn't know was that was all I knew how to say."
– Penelope Cruz admits that on the set of her first American movie the only English words she knew were her film lines
"You have to think without thinking about the market."
– Pedor Almodovar gives advice to a young filmmaker about keeping the art separate from the business side
What We Thought
Almodovar spoke mostly with the assistance of a translator. He'd make his comments and provoke a round of laughter from the Spanish-speakers in the audience. After the translator would clue the rest of us in, we'd eventually echo the laughter.
We liked hearing that Almodovar was considered to direct Brokeback Mountain. He definitely has an interest in American cinema, citing Casblanca at one point, and stating that he'd inquired about making The Hours but was too late to the project. Nevertheless, he says that he's concerned that Hollywood wouldn't award him the same liberty and independence he cherishes overseas.
At the start of the Q&A, Hirschberg warned that the panel would only field questions related to their work and nothing of a personal nature. Still, we were dumbfounded when the first asker referenced Javier Bardem (link to http://www.msnbc.msn.com/id/33178942/ns/entertainment-access_hollywood/), only to indicate that it was in reference to comments Bardem has previously made about moviemaking and the language barrier that can emerge.
PANEL RULES!
Some audience behavior seems to repeat itself panel after panel. We'll be updating a running list of "PANEL RULES!" that will help ensure that you are not the dweeb of the Panel Nerds.
Panel Nerds don't like…Generalizers
You might think that Argentina is producing poor quality of actors, but that's not a fact that's been widely accepted. So when you suggest it as a foregone conclusion as the basis for your question, it leaves open the possibility that the keynote panelist will disagree with your framework and thereby negate your question. Almodovar handled it brilliantly, saying that he'd be willing to stick around after the panel to debate her conjecture with her.  When you generalize, you run the risk of being put in your place.
Have a tip we should know? tips@mediaite.com