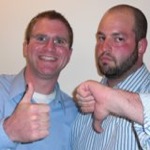 Who: Maegan Carberry, Jon Fine, Matt Romanoski, Jay Rosen, Rachel Sklar
What: MediaBistro's "Finding a Business Model for News & Online Media," at Comix
When: July 16, 2009
Thumbs: Up
Even though the panelists admitted off the bat that they didn't have a business model to rehabilitate all of journalism, that didn't stop attendees from asking for it anyway. The panelists indicated that each of them was involved, in some capacity, with pursuing a different innovative venture to keep news reporting alive. Those projects include fundraising for donations from the public, subscribing to ad-supported domains, getting wealthy donors to support a site, and working for free in hopes of eventually bringing in advertising revenue.
One potential solution raised was micro-payments, nominal fees for access to online news. Carberry and Rosen correctly pointed out that newspapers never relied on subscriptions as the source of revenue, and it could be a mistake to now turn to readers to finance newsrooms. What news sites must do first, the panel agreed, is to establish and demonstrate its value to readers. While great content or investigations may be valuable to some, it is convenience, said Sklar, that often motivates people to pay for a service.
No matter who is investing in your project, there's bound to be someone trying to influence your reporting. Rosen, who was at his best, said that all forms of subsidy come with a price – rich patrons with an agenda, advertisers wanting to promote their products, or even publications that cater to traffic patterns on their sites. It appears that while there are many new methods to sample and consider, there is not yet a definitive answer to saving journalism. Ultimately, we had to conclude that there may never be one definitive answer at all. We just hope that those who paid $75 or traveled all the way from Albany for the event felt they took something home.
What They Said
"It's a fascinating time for media. Of course fascinating can also be a synonym for terrifying."
– Moderator Jon Fine in his opening remarks. Fine writes a column for BusinessWeek that, it was announced this week, is up for sale.
"It's almost like having a baby, and ours seems to be sick a lot."
– Matt Romanoski discussing the setbacks and difficulties of his site, NewJerseyNewsroom.com, which launched this spring.
"Do what you do best and link to the rest."
– Jay Rosen citing what has become the mantra and aim of many blogs.
"That's like living with someone, then moving out, and expecting you'll still date."
– Maegan Carberry's take on starting to charge online readers for content after it's been free for so long. Still, we'll miss the way your news print felt on Saturday mornings.
"The goal is to create a robust site with different voices."
– Rachel Sklar is hoping to build Mediaite as a central hub for the ongoing media discussion
What We Thought
We thought Fine did an excellent job moderating this discussion. He only chimed in to keep the conversation moving, ceding the floor to the panelists. He also contributed to some of the funnier moments of the evening.
Only at media panels do you hear panelists half-jokingly acknowledge that they are idiots. We like the message and tone this conveys – They're showing that they are students and observers of the changing media too. This is, we believe, the framework that makes participatory journalism possible and practical. Elitism is mostly dismissed in favor of education.
We enjoyed seeing two panelists – Sklar and Carberry – not just hold their own with their male counterparts, but also hold their liquor. The ladies of the panel nursed glasses of champagne that commanded sophistication blended with high-class Julius Caesar Twitter jokes.
PANEL RULES!
Some audience behavior seems to repeat itself panel after panel. We'll be updating a running list of "PANEL RULES!" that will help ensure that you are not the dweeb of the Panel Nerds.
Panel Nerds don't like…. Dennis Miller Wannabes
Don't casually make obscure references that no one is familiar with – If there's a legal case you reference for your question, explain what the case is and how it's relevant. Give us some background. Have the question make sense- for us and the panelists. If you keep this up, you'll never last on Monday Night Football.
Etan Bednarsh is a writer and internet marketer in New York City . His writing focuses on the intersection of politics and pop culture. He is currently studying sketch and improvisational comedy at the Upright Citizen's Brigade. Danny Groner is a freelance online writer and video editor in New York City. He has worked at several prominent media companies, dabbling in radio, television, and print and online journalism.
Want the Panel Nerds to cover your panel? Email them here: [email protected]
[Disclaimer: Mediaite's Rachel Sklar was one of the members of this panel. The opinions expressed in our column were not edited for content. We decided to attend this panel on our own, and not at the behest of anyone representing Mediaite. That Rachel was one of the panel members speaks to our dovetailing interests, and we are in favor of anything that dovetails.]
Have a tip we should know? [email protected]