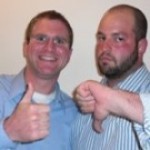 Who: Dan Klores (filmmaker), Donnie Walsh (New York Knicks), Brandon Tierney (1050 ESPN Radio), moderated by Rick Allen (SnagFilms)
What: ESPN's 30 for 30 "Winning Time: Reggie Miller vs. The New York Knicks"
When: February 4, 2010
Where: The Paley Center For Media
Thumbs: Like the photo: One up for the movie. One down for the panel.
"Winning Time" is one of the best sports documentaries we have ever seen. Filmmaker Dan Klores said he wanted to shoot it as a dark comedy, and from the film's opening operatic chords it plays exactly like that. The documentary focuses on the Indiana Pacers-New York Knicks playoff battles of the mid-90s, and it thrives in four respects. The first is the way Klores presents the larger picture. We had not realized, for example, that the Pacers finished second in the 1985 draft lottery to select Patrick Ewing. The second is that he establishes why this rivalry is worthy of its own movie. Presenting the Knicks-Pacers as a big city/midwestern battle over values felt true and unforced. The third respect is the incredible footage he found from the era. Lastly, and this is the key element, Klores gets athletes to actually open up to the camera and not simply to rest on trite platitudes.
Ironically, that last aspect is exactly where the panel failed. The discussion rarely pierced the surface. So much of the film's focus on Reggie Miller was about his trash talking, but rather than having Donnie Walsh explain how the Pacers felt about it, Brandon Tierney spoke about other great trash talkers in sports. (He cited Michael Jordan and Randy Johnson.) They mentioned the impossibility of recreating such an intense, physical rivalry in the modern NBA but didn't discuss what that change in the game means for how we view sports or the human triumph within the context of sports. Klores rarely touched on the deeper issues, but he did raise a few larger questions. However, he didn't seem to want to talk too much or address them though. We can't say we blame him. If we made a film as great as "Winning Time," we'd also want to let it speak for itself.
What They Said
"The thing that interested me was the moment…What goes on in a person's mind that he has the discipline, the courage…to not give up?"
– Dan Klores wanted to examine the impossible-to-believe personal triumph aspect of sports (he first thought of this play)
"[Talking to] Danny was the first time I told anyone that I didn't see those shots."
– Donnie Walsh didn't stick around for Reggie Miller's famous 3 pointers against the Knicks in the '95 playoffs
"Indiana and New York both feel they invented basketball."
– Donnie Walsh suggests another reason this rivalry was so heated
"It's beyond sports. [A superstar athlete is] a genius, just like a composer or playwright."
– Dan Klores saw the deeper meaning of athletics
"We had Reggie for 19 years, I always thought I'd lose him to New York…now I want to take one of those guys."
– Donnie Walsh, ex-Indiana Pacers General Manager and current New York Knicks General Manager, understands both sides of this story
What We Thought
The Paley Center did three things all panels should do: 1) They gave out a sheet with panelists' information; 2) they handed out an audience survey for feedback; 3) They gave a full introduction to the panel, providing context for everything to follow. Others should follow their lead.
The crowd was divided between a film crowd and a sports crowd. This is true for the audience – some of who nodded appreciatively of the footage and some who booed Charles Smith (for this, no doubt). This was true for the questions asked afterward. And it was also true for the panel. The gulf between Tierney's bombastic fanboyism and Klores contemplative calmness was wider than the opening Patrick Ewing had in game 7 of the 1995 playoffs.
PANEL RULES!
Some audience behavior seems to repeat itself panel after panel. We'll be updating a running list of "PANEL RULES!" that will help ensure that you are not the dweeb of the Panel Nerds.
Panel Nerds don't like…Rik Smits Stalkers
We're sorry, but Rik Smits is just too peculiar a person to be obsessed with. It's one thing to ask how Donnie Walsh scouted him. It's another to follow up with "so…what does he do now?" Even Rik Smits isn't interested in Rik Smits that much.
Have a tip we should know? tips@mediaite.com