Paul Krugman Bankrupt? Boston Globe, Breitbart.com Fall For Satirical Daily Currant Story
Krugman Bankrupt? Boston Globe, Breitbart Fall For Satirical Story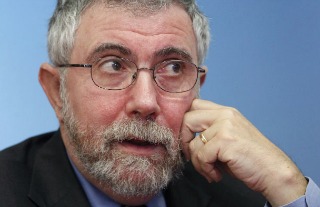 The Daily Currant is at it again, this time fooling the Boston Globe's Boston.com and Breitbart.com with it's story about New York Times columnist Paul Krugman filing for bankruptcy. Krugman himself responded to the mix-up on Monday, relishing in the hoax.
RELATED: Parody Website Fools The Washington Post Into Thinking Sarah Palin Heading To Al Jazeera
Boston.com's story was based on Austria's Format magazine, whose story was based on The Daily Currant's. "Krugman owes $7.35 million while assets to his name came in at a very meager $33,000," the story reads. "This will allow the economist and New York Times blogger to get a feel of how the majority of Americans go about their dreadful lives without any savings and a social system that will only shed pennies to him."
Things really went downhill for the star economist. His Manhattan residence lost 40% in value and makes one wonder how can somebody do so bad in the best of all US property hotspots.

Krugman went deeper into the red by impulsive shopping splurges, throwing his money after Portuguese wines and British dresses from the Victorian period, flattening his Black Amex card by $84,000 in one month.
"Now, if you'll excuse me, I have to go give a lavishly paid speech to Friends of Hamas," Krugman quipped in his blog post. Breitbart.com took down their post, and Boston.com still has their version online (as of this posting):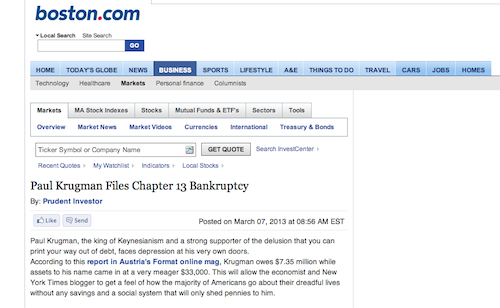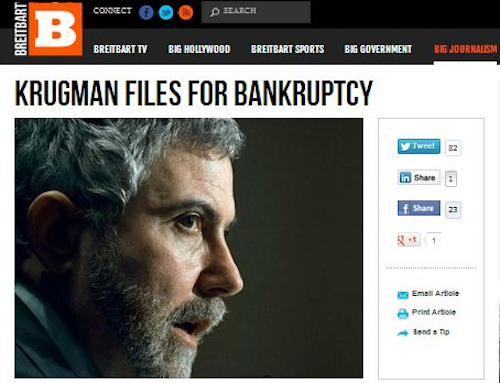 Recently, the Washington Post also fell victim to The Daily Currant, when erroneously reporting, as fact, that Sarah Palin was eyeing a post at Al Jazeera. The Currant deems itself "the global satirical newspaper of record."
UPDATE: Boston.com responded, telling the Washington Post's Erik Wemple, "The story arrived deep within our site from a third party vendor who partners on some finance and market pages on our site." The editorial staff itself did not approve it:
Brian McGrory, the Globe's editor, explains that no editorial official at his paper ever made a decision to post the piece. "The story arrived deep within our site from a third party vendor who partners on some finance and market pages on our site," says McGrory. It was never on the Boston.com homepage, says McGrory. "We never knew it was there till we heard about it from outside." Since the posting went up, McGrory attests to having done "urgent work to get it the hell down," something that appears to have happened, though not as quickly as McGrory would have liked. "The idea that we'd have a partner on our site is actually news to me," says McGrory, who vows to "address our relationship with that vendor."
Have a tip we should know? [email protected]