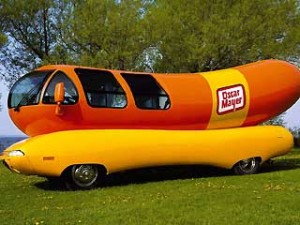 Before Republican presidential candidate Mitt Romney could even introduce his pick for "Next President of the United States," progressive superPAC American Bridge was on the attack against vice presidential candidate Paul Ryan, publishing a research book on the Wisconsin congressman that includes excruciating details encompassing Ryan's childhood allowance guidelines, and his stint as driver of the Oscar Mayer Weinermobile.
Romney opponents can have hours of fun sifting through the contents of MeetPaulRyan.com, which features exhaustive research on new VP pick Paul Ryan, and hours of tracking footage, some of which will surely end up on cable news shows in the days ahead. One factoid from early in the paper is rather comical in its presentation:
Ryan's Allowance Was Cut For Bad Grades – According to CNN Money, "Ryan's parents put the kids on an incentive system for allowances — if they got just one B on their report cards, their allowance was cut from $4 to $2, and a C meant no allowance at all."
The article in question doesn't actually say whether Ryan ever suffered that cut, but it's hilarious that it's even included. Maybe the point is to show that Americans even know about Paul Ryan's childhood finances, but not about most of Mitt Romney's grown-up tax returns. Still, I can't wait for the ads asking "When will Paul Ryan release his allowance records?"'
The research memo also reveals that "Ryan Was Once An Oscar Mayer Salesman, Drove The Wienermobile."
According to the Milwaukee Journal Sentinel, "One of his summer jobs in college was as an Oscar Mayer salesman in Minnesota, peddling turkey bacon and a new line called 'Lunchables' to supermarkets. He drove the Wienermobile once." [Milwaukee Journal Sentinel, 4/26/09]
Unfortunately, neither Mitt Romney nor Paul Ryan's names fit well into the Oscar Mayer theme song.
One potential line of attack that this memo telegraphs is that "Ryan Used Social Security Benefits To Pay For His Education," which fits in with progressive rebuttals of the dishonest "You didn't build that" attack, and also highlights the attacks on Social Security in the Ryan budget. However, the details of Ryan's education savings cut sympathetically for him:
According to US News and World Report, "Ryan's father died when Paul was only 16. Using the Social Security survivor's benefits he received until his 18th birthday, he paid for his education at Miami University in Ohio, where he completed a bachelor's degree in economics and political science in 1992." According to the Chicago Tribune, "Ryan's late father was a lawyer who died when Ryan was 16. He has said his father's death made him grow up fast. Until he was 18, Ryan, the youngest of four children, collected Social Security survivor's benefits, which he said he socked away for college." [US News and World Report, 7/23/08; Chicago Tribune, 4/17/11]
Of course, those are just the fist few pages of American Bridge's epic. The Tiddlywinks are definitely out for Paul Ryan.
Have a tip we should know? tips@mediaite.com